Investigative reporting can often be a meandering process that ends up far from where it started. It rarely ventures as far down the path as "Breathless and Burdened" though.
A sidebar in an unrelated administrative report led Chris Hamby, then a reporter at the Center for Public Integrity (CPI), a digital investigative news non-profit, to discover a broken system denying medical benefits to coal miners suffering from pneumoconiosis, commonly known as black lung. A year of reporting resulted in a three-part, 25,000-word piece challenging both the nation's top hospital, Johns Hopkins, and its biggest mining-industry law firm, Jackson Kelly.
Not only would Hamby's piece win the 2014 Pulitzer Prize for investigative reporting, but it would go on to have a tangible impact on those involved. Shortly after publication, Johns Hopkins suspended the program called into question, while the U.S. Department of Labor officially backed the report's findings, and two U.S. senators introduced legislation to reform the federal benefits program aimed at helping afflicted miners. The family of one of the story's principles finally won its claim after nine years in court.
Hamby, now at BuzzFeed, and project editor, Jim Morris, tell Folio: how the story came together.
…
Folio: This started with a similar story that Chris wrote ["Persistent black lung, old scourge of coal, found in autopsies of most Massey miners"; May, 2011]. How did that turn into the idea for "Breathless and Burdened"?
Jim Morris: I got a tip from a longtime source of ours about four years ago, after the Upper Big Branch Mine disaster in West Virginia. This contact was on the governor's task force that had looked into the accident. They let us know that the report was about to come out and there was a really interesting fact buried on one of the pages: During autopsy, a fairly high number of the miners killed in this explosion, and they were mostly young miners who wouldn't have had a lot of exposure to coal dust, were found to have had black lung. This disease that had supposedly been eradicated decades ago was coming back.
Chris did a substantial story, but not a huge piece. It was maybe 1,500 or 2,000 words. That, in turn, led to what we called "Black Lung One," which was Chris, in combination with Howard Berkes, a correspondent for NPR.
Chris Hamby: We saw the research from the National Institute for Occupational Safety and Health. They were documenting what appeared to be a resurgence of the disease. In particular, it was the most severe form of it, called "complicated black lung," and in this hotspot of central Appalachia.
They were disturbed by the numbers, so they'd drive this medical van to areas with heavy concentrations of mines to provide free screening. We would hang out with them and talk to the miners. That was when we started to hear complaints about the benefits program.
[The second piece, "Black lung surges back in coal country," came out in July, 2012]
Folio: How soon after that did you start to work on "Breathless and Burdened"?
Hamby: People were sending me stuff and complaining about the benefits program, but I was resistant to it. I wasn't sure that there was much I could say that would be meaningful. It seemed like a very technical bureaucracy where I'd end up having to take on lawyers and doctors on their own turf.
Then I got the civil complaint in the Gary Fox case. The details in his claim were so striking that I got sucked in. [As Fox petitioned his employer for medical benefits, Jackson Kelly, the law firm representing Fox's employer, solicited expert opinions about his medical condition. The firm then systematically hid any reports stating that the condition could indeed have been complicated black lung, which would have made the employer liable. Fox's claim was denied.] I started looking at whether what happened in his case was happening in others, and found that it was.
Folio: The CPI made a big investment in accommodating a yearlong reporting process. What was the approval process like?
Morris: Our team covers environment and labor, and it's our job to go out and find the best stories in those broad categories, so we didn't go through some elaborate approval process—we just, sort of, did it. It was fairly informal. The type of story Chris did is specifically what we're funded for.
Hamby: Also, this thing snowballed. The scope wasn't something I anticipated, or frankly, really wanted at the beginning. I was trying to keep it pretty contained, looking into the lawyers at first. We slowly realized that it was something bigger.
Folio: So, what made you keep digging?
Hamby: I just kept finding surprising things at every stage of the process. It wasn't the stuff I went in looking for. I didn't even know about the role of radiology at Johns Hopkins until I was partway into the reporting. It was obviously a very newsworthy item so I felt compelled to look at it. [Coal companies frequently turned to a particular X-ray unit at Johns Hopkins to counter employee claims. In more than 1,500 cases, it's leader, Dr. Paul Wheeler, never once reported an instance of black lung. Other specialists saw black lung in more than half of them.]
It wasn't necessarily what I wanted going in, but once I saw what was there, I very much wanted to keep going. It was one of those rare stories where the effect of these problems was very, very tangible and in your face every day. That made it easier to push on, compared to other stories where the damage is a little more abstract.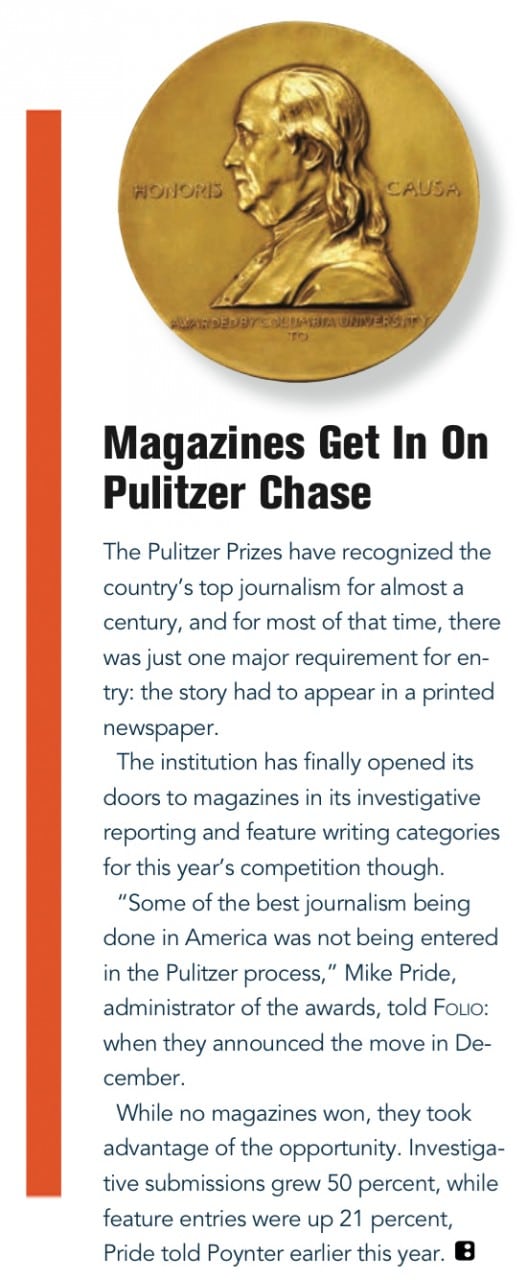 ​Folio: Discovering unexpected elements and adjusting course—is that typical of your reporting process?
Hamby: For me, yeah. It's the way I work and fits with my personality. I get interested in something and delve into every aspect of it. Sometimes that's a good thing, because it leads you to other avenues, but sometimes you have to check it and stay on track—that's where a good editor can help.
Morris: Going down those avenues helps though. One of the reasons it took so long was because Chris had to spend a fair amount of time just getting to know these miners, most of whom had never talked to a reporter before. Sitting in their living rooms and earning their trust was a big part of it.
Hamby: Yeah, you can't just sit down and expect someone to tell you everything about their life. I had to spend time with them and learn a lot about mining in general. That was one of the keys to establishing a rapport with them—not talking about black lung, but talking about what they like to talk about, which was mining.
Folio: Along with the personal, anecdotal evidence, data also plays a big role in how you tell the story. Why did you feel the need to explore the story that way?
Hamby: Once we decided that the Johns Hopkins angle was important, we needed to establish the actual record of the one particular doctor leading this unit, Dr. Paul Wheeler.
The labor department didn't have any ready information, but the final decisions of the administrative law judges were all in searchable PDF form. Our first thought was to scrape those and get them into some sort of data format, but there wasn't a way to do it. We had to go the rudimentary, brute force way. It was just me reading 1,500-plus cases and logging all the X-ray readings into a spreadsheet. That took a few months.
Morris: It was a combination of shoe-leather, on-the-ground reporting and some complex data analysis. That data also had to be turned into a visualization, which was done by Chris Zubak-Skees. He did a brilliant job of turning what could have been impenetrable into fairly striking graphics.
Folio: How was the interview with Dr. Wheeler?
Hamby: We partnered with ABC News on this and it was a TV interview, so it was pretty contentious. Johns Hopkins was not happy with a lot of the questions we asked and the general response was 'You'd better have your facts straight.' They questioned whether we really understood the medical technicalities we were talking about.
I felt confident that we did and offered to give them all of the supporting evidence for these claims we were making if they would, in turn, respond to a series of questions. They said they would. I put together a box of documents and a long series of questions about those documents and mailed it to Johns Hopkins. I didn't hear anything and kept following up with them for weeks.
Finally, they issued a brief statement that didn't address pretty much any of the points we'd raised. I said that to them, and they copy-and-pasted the same statement. That was the entirety of their response.
Folio: What was the actual writing process like?
Hamby: I write really slowly, so I spent weeks writing each story. [Project editor,] Ronnie [Greene] did the initial edit, Jim did the next edit, then it went to our fact checker in-house, and then to our outside counsel.
It was at least a couple of weeks on each part though. At that point, I had a basic outline—I don't like to do a lot of reorganizing after the fact—so I had a pretty good idea of what the three main, discrete subjects were.
[The structure] evolved during the reporting, and during the conversations with Jim and Ronnie about what the key points were. Were these their own stories? Were they really part of a larger story? They were very helpful in determining what was really important and how to frame everything in the right way.
Folio: Once the story was up, how did it get out there? Did you or the CPI do anything differently to develop an audience around it?
Hamby: We didn't do much that we hadn't done with other projects. But the reaction was surprising. We got a call from a Senate staffer after the first piece came out, asking for the rest of the story. That's not something that happens all the time.
Folio: Was there a wall or a low point in this year-long process where you thought you might be stuck?
Hamby: I don't know that I've ever done a serious investigative project where I haven't had moments of self-doubt.
You start to question whether what you're finding is really all that important or interesting. After you've just spent a year on it, you wonder whether you're going to hit the button to publish, and it'll just flitter off into the ether, forever unnoticed. Or whether, in rare cases like this, it seems to strike a nerve. Honestly, most of the time, you don't though. So you get accustomed to that and adjust your expectations.
That's where it's really nice to have a good editor to bounce something off of. Jim really kept me going because he was just as surprised and interested in everything I was finding. It told me that this was important and I should keep trying.
Folio: What are your thoughts on the current state of investigative journalism?
Hamby: There's no question that it's taken a hit overall, just as the media industry in general has taken a hit with a lot of hard financial realities.
I'm actually pretty optimistic though. I think the state of investigative journalism is a lot better than people realize, it's just not coming from the same sources that they previously looked to for it. Some of those legacy sources are still doing tremendous work, but it's also coming from places like the CPI and the Center for Investigative Reporting and The Marshall Project and InsideClimate News and all the members of the Investigative News Network, and now, my colleagues on the investigative team at BuzzFeed. There are all these really interesting models popping up that have a lot of potential.
Maybe I'm optimistic because I need that to preserve my sanity and would like to work in this business a lot longer, but I do perceive the pendulum swinging back in a more positive direction.
There was this proliferation of content, and then people became slowly disillusioned with the fact that a lot of it was unreliable. That's a sign that people are hungry for information they can trust and a story that's well told. That's very encouraging for good journalism.