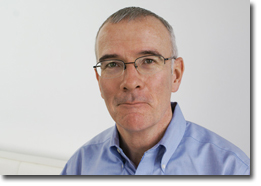 Paul Conley, a publishing vet whose experience runs the gamut from b-to-b to consumer financial journalism, is now editorial director with MyBankTracker.com. In this role, Conley will oversee the news and analysis operations of the site.
Conley's previous roles, which include editorial stints and blog contributions to The New York Times Digital, Penton, IDG, Amazon, Reed Business Information and others, have prepped him well for his new position. "I've done two different types of journalism, although they are related: one is b-to-b, and the other is consumer finance. There's also my previous experience with CNNfn, which became CNN Money," says Conley. "Those were in the early days, and the first years, that revolutionized how people found news and banking news."
MyBankTracker.com is part of the MBT Media network, a finance media company. Revenues are drawn from an ad network, as well as through selling data to banks. The data, which includes info like customer-facing charges, is also shared with consumers via the site. MyBankTracker.com currently attracts over 500,000 uniques a month.
The bank's shifting role in the American economy informs Conley's continued interest in financial journalism. "We're at a point in history where we'll look back and see that this year was the year that changed our relationship with the financial system as a result of the market crash, of the regulatory moments, but most importantly, the sense of empowerment people have about their money, particularly young people," Conley tells FOLIO:. "The idea here is to bring transparency to the banking system. There is an unwillingness to continue to do business in the old way: a way in which consumers feel they are being exploited."
"The most exciting, and most credible, conversations in finance are happening among bloggers and entrepreneurs, not on the major media brands," says Conley."I'm far more interested in watching how this changes and helping people navigate a new world. That's what I did in b-to-b, and that's what I like to do."