Publishing in the (Long) Shadow of New York

New Jersey Monthly's Tomlinson talks about working in Manhattan's backyard.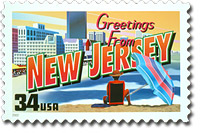 The publishing world may seem gloomy in Magazine Central, but out here in what many New York print types view as the hinterland, I'm thankful to be a regional magazine publisher. For one thing, people still do read magazines, especially the ones that cover topics they have a passion for and — laugh if you will — our readers have a passion for all things Jersey. I think Dan Brogan, my fellow regional publisher from Denver (5280), gave the best explanation of the strength of our category when he called city and regionals enthusiast magazines for a particular place. Our readers really do want to know where to go, where to eat, and, let me not forget, who the best doctors are.
Our pink sheet is clean, but I am thankful that our advertisers don't read pink sheets. Yes, they look at the first page, and I am hearing more about "accountability," but the tempests at ABC that increasingly pit advertisers and agencies against publishers haven't crossed the Hudson Ocean (err, I mean River).
I hear a lot about national advertisers moving their advertising from print to the web and other new media, but I am thankful that our advertisers haven't joined the stampede-yet. They are experimenting with new media, but haven't allowed themselves to forget that it's all about results rather than following the fashions, which is good for print. Judging from some of the comments I heard at the City and Regional Magazine Association conference in September, local advertisers in some areas are starting to shift dollars to the web, but we have some time to craft our own web strategies to take advantage of the transition.
Operating a business in the New York Metro has its downsides-and that's a rant for another day-but there are some things to be thankful for, such as the incredible talent pool that Magazine Central represents. About half our staff members have gotten their training at one of the large, national magazines in our backyard.
Publishing a magazine outside NYC gives me much to be thankful for, and, if anyone can come up with a way for a magazine to make serious money on the Web, I'll be grateful for many Thanksgivings to come.
Meet the Author
---