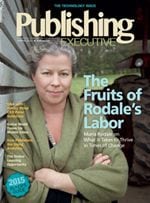 NAPCO Media's publishing industry trade journals, Publishing Executive and Book Business, are shutting down their print editions, editor-in-chief Denis Wilson announced Monday.
In a note posted on Publishing Executive's website, Wilson confirms that 2016 will see the end of the quarterly print product, but that the brand will live on digitally and in the live events business, with plans for expansion in both areas.
"It'd be disingenuous to suggest that we aren't a little sad that starting in 2016 Publishing Executive will not be printed as a periodical magazine," Wilson writes. "We'll still print special topic issues where we see the opportunity and audience demand, but moving forward, we'll set our attention on providing valuable content primarily on the web and at live events."
Wilson goes on to tell readers to expect more online coverage from an expanded community of contributors, as well as more webinars, indicating similar plans for Book Business in a note on its website.
Parent company NAPCO Media reduced the print frequencies of both Publishing Executive and Book Business in 2015, from six issues a year to four and two, respectively.
The decision to reduce or cut its print products entirely to focus more on digital and live events reflects an ongoing trend in the B2B publishing industry, with IDG Enterprise taking CIO, it's last print product, digital-only in late October, and Vendome Group expanding its live events business.
The B2B exhibition industry hit all-time highs in 2015, according to the Center for Exhibition Industry Research.