The next revolution of magazine publishing is upon us. The past several years have challenged media companies to evolve from the print that served our industry so well for decades to the online, social world we live in today. In that time, we have transitioned from a sole focus on the print magazine to a distribution-agnostic structure where content was replicated across devices and channels. Now, we have moved to a micro-world of data, personalization, 1:1 marketing, marketing automation, relative content, niche publishing and continuous distribution. This is Publishing 3.0: the age of atomization.
In this era, anything and everything is niche. Audiences are smaller and more specific, content is more consumable, data is more meticulous. And all of this allows for more specific targeting of customers. In many ways, the B2B model of reaching precisely targeted audience segments is the model to follow now, and B2C publishers are taking note.
No longer is the one-size-fits-all approach cutting it. Publishers are now realizing the potential of atomization.
4 Ways to Reach Success with Atomized Publishing


1. The Power of Data

By atomizing consumer data, you can translate the information you know about your consumers into real, usable details to build stronger, personalized connections. You can match content to individuals based on their history and preferences, and predict the content and themes consumers will want in the future.
The customer journey—both online and offline—is a reliable indicator of preferences, needs and wants, and it is a predictor of future behavior. Combine that information with key metrics for relationship assessment and consumer engagement. Allow consumers to customize their brand experiences. Integrate tools like marketing automation for customer attribution and audience segmentation. Identify smaller, niche customer segments. Introduce personalization for a tailored brand experience. Enlist the expertise of data scientists and analysts, and be sure your business partners are doing that too.
This is audience atomization at its core.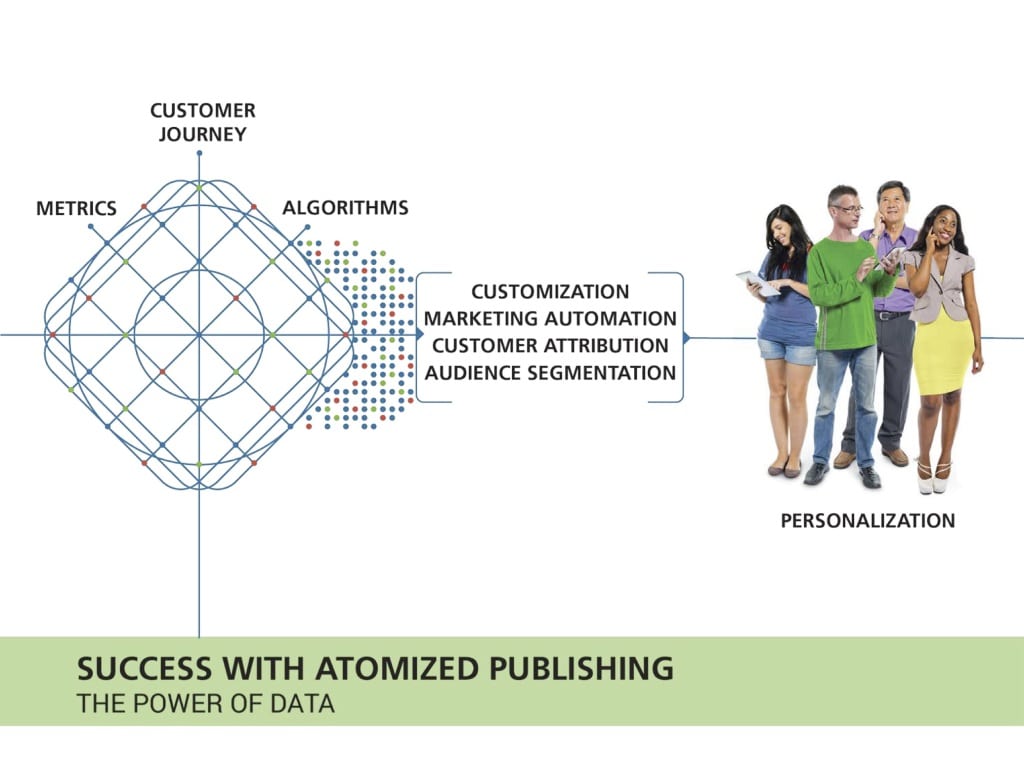 ---
2. Further Your Storytelling

Atomization goes beyond data and audiences, and includes the creation of smaller pieces of consumable content that are aimed at your targeted audience segments.
Publishers are in the position to continue content diversification efforts started over recent years to effectively build their brands into channels. Expanded offerings are key to reaching segmented audiences where those consumers are most active. A brand's DNA is made up of a number of content types and channels, often starting with a print magazine or digital content and expanding to include social media, video, augmented and virtual reality, e-commerce and products, audio and podcasts, a mobile-optimized experience (video, marketing, commerce), niche content, membership, events, and more. Greater interaction and a seamless experience between channels and devices allow you to blend the physical, virtual and electronic environments as the consumer moves from one to another.
But storytelling is really about the story. One thing that most publishers understand is that your branded content must be premium, must-read, and recognizable with a consistent, compelling message that ensures consumers know it is from your brand.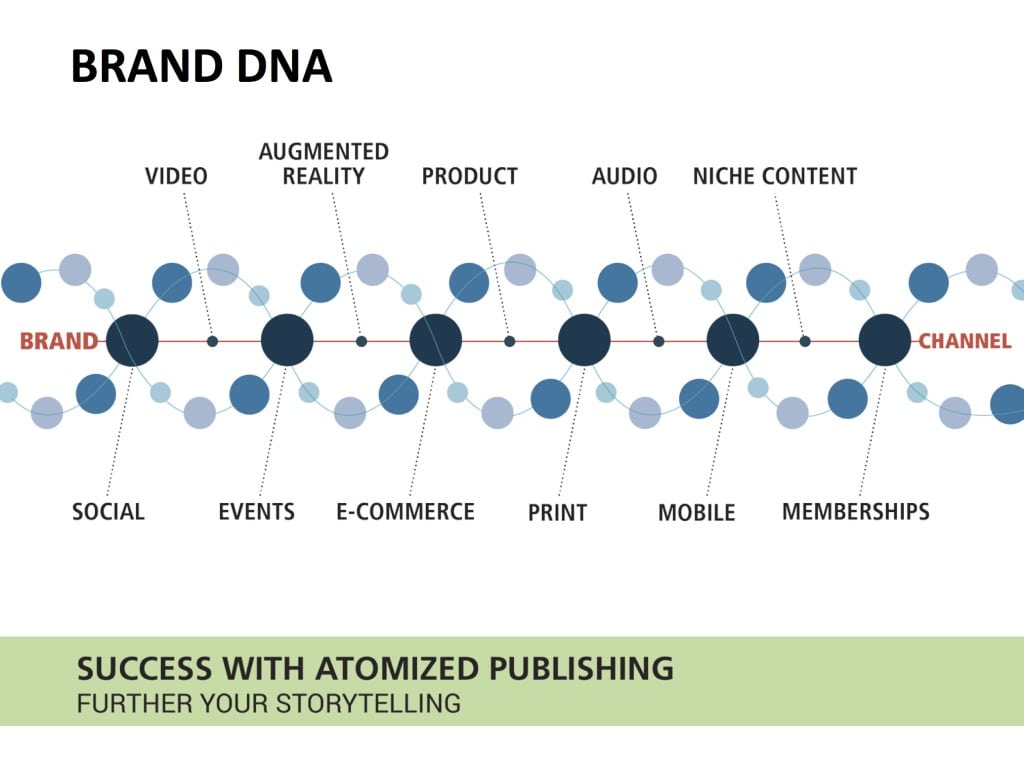 ---
3. Smart Content Placement

Being smart about placement means getting the right content to the right audience at the right time in the right place for the right price.
You need to know which audience segment you are targeting with specific content and when those consumers are most active in the places they like to access it. Ensuring seamless and optimized access across devices and channels is key.
Use the value of your brand and your branded content to know how to appropriately charge for your content, or if you are offering it for free, don't be afraid to engage in the complex courtship of potential subscribers. This can include free trials, metered access to content, or a paywall for either subscription or to require registration. Free content should include a call to action (to subscribe or register) and should be used as an on-ramp to a paid relationship and for collecting consumer data points that can be built into your content and marketing initiatives.
It is also important to recognize third parties, like Apple News, Facebook Instant Articles, and Texture, and to use those opportunities as additional channels for engaging with customers while being aware of their challenges. Data is often owned by the platform, not the publisher, and it is important to require that data be shared with you.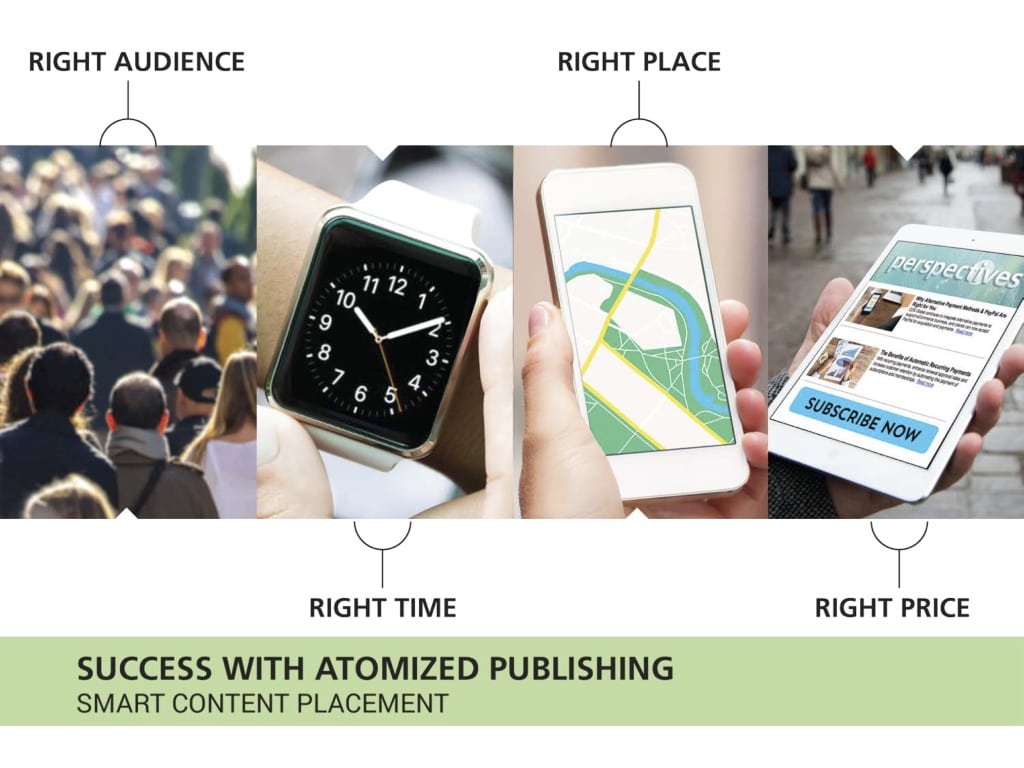 ---
4. Give the Consumer Control
To be successful with atomized publishing, you must give consumers control over their interactions with your brand to create a better experience for consumers and develop highly engaged readers.
Use the data you have on a consumer—based on their preferences, interactions, and history with your brand—to present content at the right time, in the right place, at the right time, and for the right price. Previous interactions control how consumers interact with your brand, and connecting those dots ensures that consumers come to you for your valuable content.
That means thinking beyond the standard print mentality. The digital content experience or digital subscription does not have to be—and should not be—a linear magazine experience. It can be an atomized, continuous, streaming experience that is unbound from a weekly or monthly schedule.
Using your consumer data to change offerings and present targeted content to atomized audiences is the publishing holy grail.