Over the past few years, there has been a clear shift in the ways publishers have been engaging advertisers. Relationships are growing beyond transactional ad-buys and cookie-cutter integrated packages. Custom content studios are popping up like wild flowers in spring, and it's not only for major players—publishers of all sizes are getting in on the action.
Here, we profile three discrete content studios with different models, products, and clientele and learn why this strategy is redefining the publishing landscape and offering a glimpse at how advertising will support media brands in the years ahead.
Studio 2G (Government Executive Media Group)
In September 2017, Atlantic Media's public-sector brand, Government Executive, announced the rebranding of its content marketing division as Studio​ ​2G​. Formerly known as Custom Strategies, the business-to-government publisher has organically grown its content marketing offerings over the last four years.
Amidst a shift from print to digital at GEMG, several of its clients were facing challenges of their own.
"They started asking us to write articles they needed," says Will Colston, SVP of strategic marketing and insights. "From there they needed more support because the markets became more complex. We expanded the range of services we provided, going way beyond what we were doing."
Today, Studio 2G has 35 clients, including Booz Allen, AT&T, MasterCard, among others, who turn to them for native content, e-books, newsletters, white label events, case studies, microsites, videos, white papers, assessment tools, and more.
"Marketing services and custom content are central to the benefits we provide our partners and clients," CEO Tim Hartman tells Folio:. "Studio 2G is the next step for us in that evolution. We saw a real opportunity to invest, because our clients increasingly demand better ways to identify, engage, and convert government decision-makers into their customers. As business has gone digital, content marketing, analytics, and account-based marketing became critical to their success."
The numbers tell the story. Studio 2G saw 31.5 percent year-over-year growth from 2016 to 2017. Its client base grew by 11 percent over the same period, and the size of its average client account increased by 16 percent. Studio 2G now houses more than a dozen employees, in addition to outsider experts, particularly in defense.
The firm's engagement with Booz Allen is a success story they like sharing. "We collaborated with them and created a marketing machine," says Colston.
Within the Booz Allen program, targeted sub-campaigns are executed against specific topics or issue areas. One such topic was the role of social media in combating ISIS, which has used the web for recruiting. Based on a Booz Allen thought piece, Studio 2G produced native articles, custom videos, targeted ads, social posts and an online quiz for Department of Defense managers to test their knowledge of how social media is used in warfare. These tactics drove exceptional engagement among defense and intelligence professionals as well as over 800 downloads of the Booz Allen thought piece.
Overall, the Studio 2G/Booz Allen program has generated 25 million impressions on all of the content and promotion associated with the campaign, a database of 17,000 followers who have asked to receive more information from Booz Allen, and a highly qualified prospect list of over 3,900 government officials who have downloaded Booz Allen viewpoints and thought pieces. Studio 2G says it curates and nurtures this community with a branded newsletter produced on behalf of Booz Allen.
"We are creating deeper, more collaborative relationships and sustained partnerships with some of the biggest names in government contracting," adds Hartman. "A client may come to us looking to enhance their message among cloud technology purchasers with the Department of Homeland Security. We'll come back to them with our strategic outline for lead generation and describe the full breadth of our capabilities, which may include co-produced white label events, explainer videos, and native content. The client may have never considered these options, but this what makes us so unique: our ability to create concepts that drive tremendous value."
---
The Foundry (Formerly Time Inc., now part of Meredith Corp.)
Launched in 2015, Time Inc.'s The Foundry has its own offices in Brooklyn designed to inspire collaboration and creativity.
"We had been working with marketing partners in traditional ways and realized there was a bigger opportunity in storytelling and began offering the service," Chris Hercik, chief creative officer, tells Folio:.
The Foundry, which started with three employees, today boasts about 150, half of whom arrived from outside the parent company, and the rest culled from its custom publishing division, plus its entire portfolio of magazine and digital media brands—a pool of expertise in travel, food, beauty, spirits, luxury, fashion, autos, and more. Last year, The Foundry's clients included names like Walgreens, Tiffany & Co, Lexus, Jaguar, Coach, Western Union, among others.
But there was much buzz about The Foundry's project with Coors Light. Capitalizing on the virtual reality craze, the LIFE VR app provides insider access to college football's iconic teams, like the University of Texas and the University of Southern California. Coors Light XP, a year-round loyalty program, offers consumers "experience points" they can collect and cash in for different brand opportunities. One of them is the LIFE VR app, which takes, for example, USC Trojans fans inside a huddle on the field of LA Memorial Coliseum, or an in-depth look at the newly renovated locker rooms at Texas Memorial Stadium with former Texas Longhorns star Jordan Shipley.
Hercik says the agency is truly full service and it offers clients creatative ideation, strategy, content, distribution, data and analytics.
"We have grown exponentially and are a nine-figure content business," he adds.
But it hasn't been without challenges. "Each brand has its own culture and nuances for distribution," Hercik adds. "The idea is to work together across 30 different brands for one common solution and to make sure we deliver what the client wants in a simple process."
It's been a learning curve, but Hercik says The Foundry is on the upside. "Our diversity has been our strength."
When it comes to ideation, The Foundry pays close attention to what people are talking about and saying about a brand partner, especially on social media.
With distribution, "We know what platforms do well with long-form or videos," Hercik adds. "We are aware of the consumer journey. We can use content at the right place and at the right time.  It's as much about contextual marketing as it is content marketing. We have a large, passionate audience across our brands."
---
Brand Studio (New York Media)
New York Media is typically known as the home to New York Magazine and its websites Daily Intelligencer, Vulture, The Cut, The Strategist, Grub Street and Select All.
The company also has a strong foothold in the event space. So with an already diversified revenue strategy, "The trend in branded content was a natural evolution to seize an opportunity to partner with our advertisers in a different way," says Jackie Cinguina, head of sales marketing.
The Brand Studio launched in March 2016, and the team now includes nearly 20 staffers—event coordinators, designers, producers, editors, social strategists and other roles—all of whom are putting their creative expertise to work for clients.
The full-service shop does custom ads, videos, posts, infographics, and more.
"What we do changes daily with technology," Cinguina tells Folio:. "Our challenge is keeping up with emerging technology and determining what canvas we should test."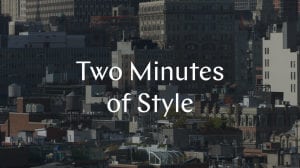 "The Cut is a smart, stylist website, and has luxury fashion advertising," she adds. "When Tiffany & Co. wanted to showcase watches, we came up with an interesting custom video series, Two Minutes of Style. We followed The Cut's fashion director Rebecca Ramsey as she visits four powerful, fashionable women who shared their style stories."
Cinguina sums it all up by saying, "We take our knowledge of our clients and our audience and play in the sandbox."
Video has been particularly impactful, with a four-fold increase in the number of units produced compared to when the Brand Studio launched. There has also been an increase in the number of engagements and repeat clients.
Like at Studio 2G and The Foundry, Cinguina says business is good. "About one-third of our advertising revenue comes from the studio. We want to continue to grow it until it's the whole pie."
The biggest challenge has been convincing people that they have the resources to do the work.
"We're not a behemoth media company," she says. "We had to prove that we could generate critical mass. But there is a lot of love for our brands, from our audience and the advertising community. They were willing to go with us and they reached their goals."
What keeps Cinguina up at night? "What's the next platform, the next technology, how can I play? We don't just want to jump on something because it's out there. We have to know if it's the right thing for our clients."
The Brand Studeio takes its role as consultant seriously. "We can't be afraid to say this won't work for our audience, and present an idea that we think might work better, to talk about it," Cinguina says. "Branded content should be just as good as editorial. We're rethinking everything—technology, editorial, new revenue streams. There's been learning on the business and editorial sides."