Publishers Tighten the Paywall Meter

Press+ data shows pricing on the rise while free access decreases.
RR Donelley's metered paywall system Press+ has been keeping tabs on how its 400 customers are executing on their paid content strategies. According to a recent data report, the company says its customers are generally increasing subscription prices while lowering their meters. In other words, readers are paying more while free access for non-subscribers decreases.
According to Press+, the average monthly subscription price has gone up almost 40 percent since July 2011. Along with that trend, publishers are starting to tighten the meter, decreasing the number of stories non-subscribers are allowed to see before they're presented with an offer to pay up. [Disclosure: FOLIO: is a Press+ customer.]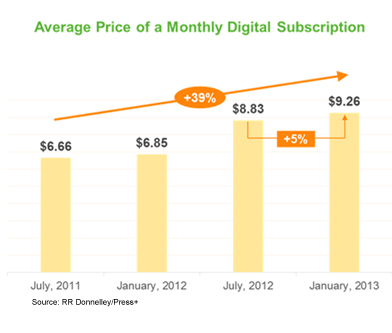 The service says that 35 percent of its customers allow access to five or fewer free articles each month. About 23 percent allow access to more than 10 free articles.
Since January 2012, the average meter setting has dropped 30 percent from 13 free articles to 10.
The patterns tend to reflect customers' initial worries about a paywall's impact on traffic—by allowing more story access, visitor counts don't get pinched as quickly during the course of a month. But the company notes that as customers become more confident in the system—and the value of their content—the meters can be adjusted downward to drive more conversions more quickly. 
Meet the Author
---