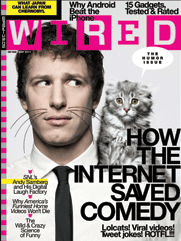 Whether to create of an app or not was a debate for many publishers last year; this year, it seems almost a necessity. What publishers face now, as most major publications are rapidly discovering, is the obstacle of not only getting users to sample their apps, but become regular users (WIRED's iPad debut last June generated 100,000+ downloads and eclipsed print sales; in August 2010, subsequent iPad editions had generated to about 28,000 downloads, according to ABC's Rapid Report).
Ahead is a trio of publishers who have invested in the app space and are now moving into the next phase: creating user relationships with the product.
Getting Users Through the App Door
Discount as buyer incentive is one-way publishers are driving audience interest (as long as publishers don't take it to the same extent that discounting devalued the print product in reader's eyes).
On April 14th, Bonnier introduced a new subscription model for Popular Photography. The Pop Photo app itself is free, and Bonnier is offering a limited time sale price for sub purchases: $14.99 for a year's worth of issues. Typically, yearly subs will run at $19.99. Single copies of Popular Photography have been available for in-app purchase since October 2010 for $4.99 an issue.
"The fact that we have a sub model is one way we're constantly keeping in touch with our consumers who subscribe digitally," says group publisher Gregg Hano, who notes that a Popular Photography app for the Android platform is currently being developed. "We think that the sub model is a very good first step, and we believe that over time, the market in general, not just Apple, but the entire market, will evolve. And as it evolves, new opportunities will arise."
In celebration of one year on the iPad platform, WIRED is offering users a free download of the May issue in their free Apple iPad app; the free issue is sponsored by Adobe. With this free issue comes new sharing capabilities for social media and a "t-commerce" option with Master Card integrated into the digital edition.
T-commerce is a function that allows users to purchase products featured in the "Test" section of the magazine without leaving the app platform.
"We create wantedness, we create product lust, if you will," says Howard Mittman, VP and publisher of WIRED. "We start the conversation by sharing products with the readers and putting it in their consciousness; then, we give the ability to deliver them, purchase those products and create a storefront within the editorial as well."
Along with the full magazine, social media sharing and the T-commerce option, users receive additional content, videos, slideshows, graphs, enhanced functionalities and "360s" (photos that show 360 degrees of the subject) with the digital WIRED.
With no subscription model available through Apple for WIRED readers (Mittman declined to offer direct comment on this), he says this free initiative is about, "…trying to get as many members of the WIRED community back to the app, to see what we've done, or see it for the first time."
Mittman maintains that this offer is not indicative of change in their consumer marketing model; content will continue to be paid for.
WIRED's app on the iPad is initially free, and subsequent issues are available for single purchase copy for $3.99. The Android version of WIRED is currently in the works.
Getting Readers to Stay Awhile
Mittman says that the sense of community within the app has been a big draw to users. He says, "I think we've done a really good job of creating a two-way conversation with the community. Our editors and our publishing side staff are constantly replying to tweets, posting message and thoughts in the iTunes store itself; allowing a forum for our community members to speak to us and get replies back."
He says that so far, the internal projections have been met and/or surpassed for download numbers. "So, while I think a fair amount has been made about decreases since our launch, I don't even think reporters would believe that this [the initial download number] is sustainable over the long haul. It just makes for good headlines."
WIRED has used its first year on the iPad as a testing period. Resulting improvements include the decreasing of file size, which was causing problematic downloading times for users. Mittman says the overall experience has given the WIRED team insight into what is disruptive and what is successful as far as interactivity goes in both the editorial and advertising sides of the digital editions.
"We're starting to just now get a sense of things that are completely intuitive with the magazine; like seasonality. How do covers impact sales; [so far] every month has been compared to the others straight up." With the May issue, WIRED staffers are able to gather their first year-over-year comparison.
When asked what Bonnier is doing to draw readers back to the apps beyond a sub model, Hano cites community as well. "What we need to work towards is to have regular interactions with consumers [beyond] a monthly magazine and be able to share say, newsletters, breaking news on a subject, webinars with editors and noted people that are brought to the webinar by Pop Sci or Pop Photo…move towards more rapidly what this country is becoming: an opt-in culture. We want consumers to opt-in to our brands, to want to be part of the dialogue, want to be part of the community and share their information with us."
Chris Wilkes, vice president of the Hearst App Lab, says he and his team have seen a longer engagement time from users in-app as compared to traditional Web experiences.
Wilkes says, "Optimizing screen layouts work to make for a better, easier read and adding interactive extras enhance the story telling."
Wilkes says distribution evolution is a primary focus of the App Team. "We need to better expose our great cover lines and art…We need to make it easy for consumers to subscribe and get automatic content updates. We're making good progress on these fronts, but there is still much work to be done."