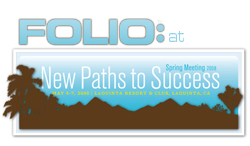 NOTE: FOLIO: editors are in California this week, filing reports from American Business Media's annual Spring Meeting.
LA QUINTA, California—The tagline for American Business Media's Spring Meeting is "New Paths To Success." And while much of the conversation revolves around expected topics of video and social media, the changing role of the print product is accounting for much of the conversation as well.
"There's a lot of talk about Web 2.0 but there is very little talk about Magazines 2.0," says Hanley Wood CEO and outgoing ABM chairman Frank Anton. "If the magazines published two or three years from now aren't different, we're in trouble. "The current magazine model won't take us into the next five years, let alone the next 100 years."
Magazines need to be rethought from top-to-bottom—editorial approach to circulation to folio size, Anton says. "We need to let readers decide the content—instead of one version for 100,000 readers but a lot of custom versions," he added. "Circulation needs to be reviewed. It's bloated—in some cases by 60 percent or more. Maybe we need to move away from controlled circulation and have people pay for products."
Nielsen chairman and CEO David Calhoun said magazines have to be approached in terms of how they complement other media. "I don't believe publications are going away but if they don't understand their role in relation to other media, they will lose," he said. "I hate reading about one form of media losing out to another, and print is always thought about in terms of competing with other media. In the evolution of the magazine, print will have to assume a role in the bigger scheme. What are its interactions with other media? Each reinforces the other."
Limiting Magazine Size and Sponsorships
Thick magazines may indicate publication health but they may not be serving time-pressed readers, according to Anton, who says publishers should start thinking about limiting folio size.
"Our biggest magazines going forward will be 96 pages," says Anton. "Publishers should consider exclusive sponsorship to one advertiser rather than selling many window advertisers."
Brands are interested in becoming part of the conversation both online and in print, according to IBM vice president of marketing Edward Abrams—who stressed that doesn't mean violating editorial autonomy but didn't offer an example. "Magazines are important from that independent, authoritative perspective," said Abrams. "How do I get embedded in a way that's less an advertising approach? I'm not talking about crossing the church-state line but how do we participate?"
FOLIO:'s Spring Meeting Coverage:
Nielsen's New Corporate Values: 'Integrated, Open, Simple'
The New Must-Have Skills for B-to-B Media: Project Management