Publishers Prepare for Recession

Where publishers are investing and where they are cutting.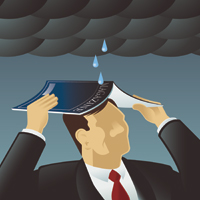 Many publishers are facing a cost crunch and potential revenue fall in 2008, particularly as the economy seems to inch toward recession. Folio: asked publishing executives around the industry if they were taking any steps to prepare for a potential recession, where they will invest and where they will scale back, and what products they will turn to for continued growth and what products may bear the brunt of a downturn.
Most are expecting softness in print while online continues to grow. However, 1105 Media chairman Jeff Klein says that publishers who ignore print budgets in favor of online will regret it in the long run. "There will be a modest economic downturn, but it will wreak havoc with ad budgets, which are the easiest line item to be cut by short-sighted CEOs. As a result, the reallocation of ad budgets from print to online will continue at a dramatically faster clip than it has these past few years. Publishers who develop innovative Web products and services will be rewarded with increased online revenue growth, but it won't be enough to sustain overall profit margins."
Steve Palm
CEO, NewBay Media
We run a pretty tight ship in general but certainly we have taken additional steps to identify cost reduction opportunities and identify headcount additions we can postpone. We're looking at strategic opportunities to reduce our cost base.
We're not holding off on the sales end. We're continuing to look for good salespeople—with not only print but those with online and integrated sales experience—wherever and whenever we can get them. Where we're likely to postpone hiring, and we're not talking about any headcount reduction at this point, are areas where the customer doesn't feel it—back office, finance, HR, accounting.
We're launching a new publication and Web site called AV Technology and we're confident that in spite of all this gloom and doom, we'll have a successful launch. With a product like Television Broadcast, that could be a double whammy because our advertiser base relies on advertising and we rely on advertising from them. Advertising is a leading indicator and that gives us some exposure. But we think we can aggressively push back any sort of issues we might have.
We'll continue to make big investments in the Web as part of planned growth. We have been looking at digital editions in addition to e-newsletters.
There are two things I took away from the 2001 recession. First, it's the hardest thing in the world to predict but you can never start acting on it too early. Be aggressive. If you think it's going to happen, it probably will. Continue to push and focus on the core competencies: advertising, revenue and developing your sales organization. When you get out of a recession it's usually the number 1,2 and 3 books that get the benefit. It's the weaker books that tend to evaporate.
Peggy Walker
president and COO, Vance Publishing
Our fiscal year begins on April 1 so we are in the midst of budgeting right now. We have included a risk factor in our revenue budgets because of economic uncertainty. The factor varies by market segment. For example, some of our products are tied to the housing industry and we've accounted for that slowdown. Other markets, such as agriculture, are not as sensitive to the economy and we don't have a significant risk factor in the budget.
Cynthia Good
editor and CEO, PINK
It will be a challenging time but there will be bright spots of growth. Pink is expanding—I think it's because it's a niche and fills a need. We are investing in sales and technology staff. Because of the tight squeeze on the economy, there's more pressure to bring in revenue and visibility online. With this economy, there's the same demand for content but it needs to be disseminated in a different way. We are also investing more in strong freelancers. It's critical to outsource. It's a way to eliminate risk and be conservative with new ventures.
We are also doing a review of all our numbers, energy and resources. As the owner of a small business, it's important to pay attention to where every penny is spent. We are not lowering anybody's salary but there's pressure to hold down pay raises. I'm frustrated that we can't give bigger raises. I think writers especially should be paid more.
John Koten
CEO, Mansueto Ventures
Our plans call for about a 10 percent increase in spending this year. At worst, we will slow the rate of that growth but we will not cut back spending in any of our divisions this year.
We will continue to invest in all areas of our business. We look at our company as a long-term proposition and we can afford to do that because we are not subject to the short-term pressures of public ownership. There's more opportunity to differentiate ourselves in the marketplace and to offer value to customers right now, when others are cutting back. The Fast Company brand has a lot of momentum right now, so that's where we will be investing the most.
What we've learned from the past is to avoid triggering a downward spiral, where cost cutting exaggerates the negative impact of broader economic forces. If you have to take a hit, take it. But don't try to pass along all the pain to your customers because your business will pay for it in the end.
John Q. Griffin
president, magazine group, National Geographic Society; and chairman, Magazine Publishers of America
Publishers will have to cut costs where the money is. The two major cost centers, circulation and print production/distribution, get special attention during tough economic times. We are looking at all of our magazines to decide what we can do to run closer to ratebase, be more efficient with circulation and find ways to present the magazines in the same quality while saving money on paper. Hopefully we won't cut back on editorial budgets. That's where our power comes from.
We will invest more in anything that can help sell single copy sales and subscriptions. It's a lot easier and less painful to increase revenue than to cut cost. The key to success in magazines is selling big ideas, not reducing costs.
Lessons learned in 2001 are scary ones. We learned that good times don't go on forever and things can drop very fast, especially in certain categories. Automotive ads have seen a huge drop off, but hopefully the worst is over there. Nothing is for sure, so you better be prepared. Get out in front of things so you won't have to react later and make short-term, crisis-driven decision.
But we also learned that things come back. Publishers need to keep focusing on the long term challenge of creating great content and monetizing that by offering a great place for advertisers to market their products.
Meet the Author
---