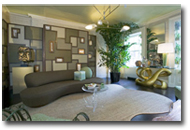 Ailing economy? Down housing market? One might not recall such conditions looking at how some magazine publishers are locking up plush Manhattan residences for events and brand extension initiatives.
Again this fall, Hearst is planning its annual Esquire "Ultimate Bachelor Pad" in Soho, featuring a 9,200-square-foot, glass-walled penthouse at Soho Mews, with an opening gala set for September 21 to celebrate the New York Film Festival.
The price tag for the penthouse? According to nyc BLOG estate site, Soho Mews' rentals range from $7,000 to $20,000 per month. Two years ago, Esquire's Ultimate Bachelor Pad—Esquire North, located in Harlem—cost $8.5 million.
 
For the first time ever, The Mews will also host Hearst's fourth year of "Designer Visions" program, opening on October 13, where each designer decorates a townhouse in "Cinema Style." Each of Hearst's three shelter titles has paired with a designer who will choose a movie to be representative of the show home's décor: House Beautiful's designer Thom Filicia chose The Big Chill; Town&Country's Richard Mishaan selected Dinner at Eight; and John Saladino for Veranda went with Girl with a Pearl Earring. Once unveiled, buyers will have the opportunity to purchase these living spaces.
 
Hachette's Metropolitan Home will also keep its "Showtime House" alive for a second year (after winning FOLIO:'s 2008 silver FAME Award for Best First-Time Event) with twin penthouses in the Tribeca Summit building. Designers will transform the 14,000-square-foot indoor and outdoor space into rooms based on Showtime series, like Californication, Dexter, Nurse Jackie, The Tudors and Weeds [pictured], and open to the public from September 12 to mid-October.
 
Regardless of the price, the fact that publishers are still signing on for show houses—particularly when the shelter category has been hit the hardest—is one of the few industry bright spots. Fall parties at the Mews, anyone?