---
The launch of Facebook's News Feed in 2006 opened an entirely new door for news outlets and lifestyle publishers who jumped at the chance to distribute content, grow audience reach and increase engagement through this new outlet. And, the best part: it was completely free.
It was a perfect match. Until it wasn't. Recently, as the social media giant has rolled out changes to its algorithm, publishers have suffered the consequences of a triple threat:
1. Publishers' content was pushed off the News Feed in favor of user-generated posts, making it harder to engage the audiences publishers had worked so hard to cultivate.
2. Extremely stringent content standards for advertisers have seen legitimate outlets and news stories flagged for "hate speech" simply for the slightest inkling of political news.
3. Consumer trust of the platform has waned over fake news and the company's negligence in protecting users' personal information leading to lower traffic.
---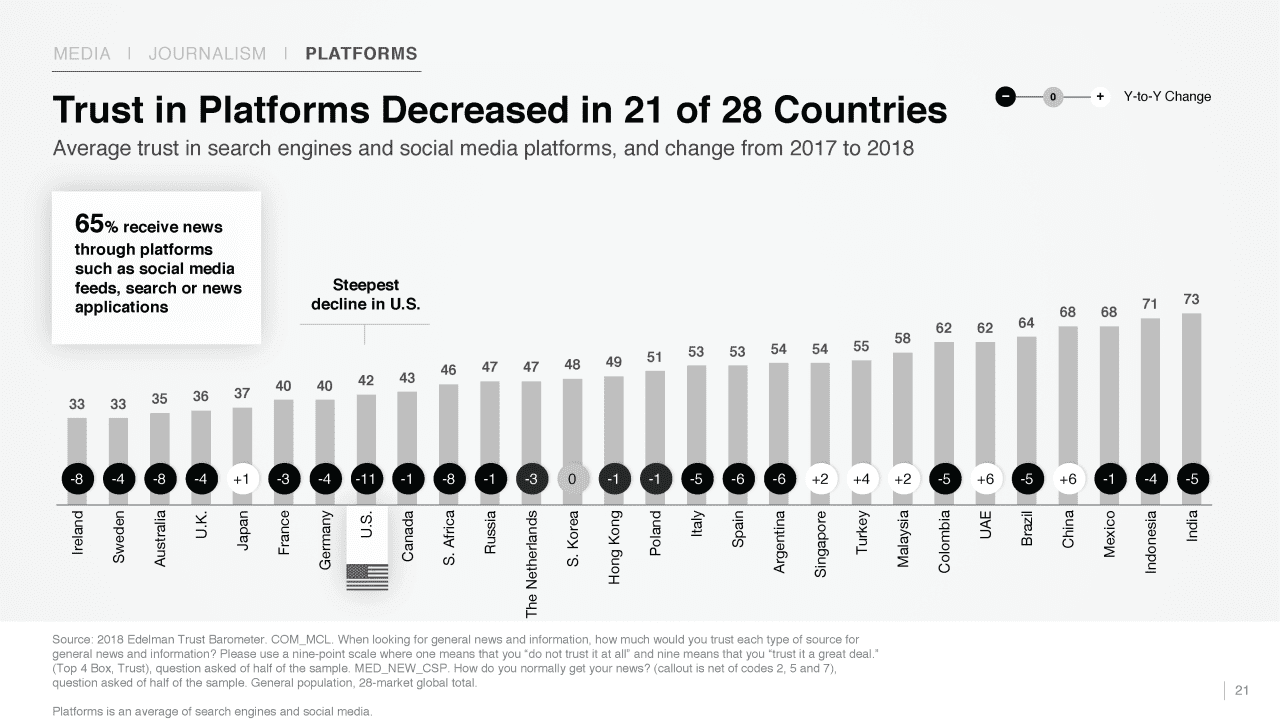 ---
As a result, publishers are reeling, trying to figure out how to reposition their content for better distribution and monetization. They need channels that put them back in control of the distribution, timing, targeting and monetization, enabling publishers to reclaim ownership of their audience and engagement.
Fortunately, several channels are emerging to fill the void, giving publishers more control, greater flexibility and carrying with them more inherent audience trust. And you might be surprised to learn that they're not entirely new. Here are the big three, and why publishers need to implement these channel strategies now to rebound from their floundering Facebook relationship.
---
Partner Content brought to you by PowerInbox.
---
Email
Once written off as "old school," email is experiencing a renaissance as publishers come to recognize the innate value of opt-in subscribers who have asked for their content. Not only does the subscriber data gathered via email allow publishers to build rich profiles for precise personalization, but that targeted personalization drives up open rates and click-thru rates by 29 and 41 percent respectively. Email can also be successfully monetized on a CPC basis using native ads, exclusive-sponsored emails and sponsored content, potentially driving up to 20% of total ad revenue. And, of course, email puts publishers back in control, reliably delivering content and ads to subscribers with the confidence that it will get through to the intended audience.
---
---
Native web ads
While web advertising has suffered over the years at the hands of pop-up blockers and browser-based ad blockers, native ads are breathing new life into web-based monetization strategies. Because they feel natural, blend seamlessly into native content and can be targeted precisely based on subscriber data (gleaned from email—see #1), they're highly engaging for audiences who spend almost as much time on native ads as they do editorial content, and they're viewed 53 percent more frequently than display. With email-based ad targeting, native ads not only give publishers a tremendous amount of control, they also offer much higher click-through rates—0.2 percent for native, on average, compared to just 0.05 percent for display.
Push notifications
Functionally, push notifications are the next evolution of email. They're opt in, put publishers in control of distribution and timing, and they're able to be easily personalized and precisely targeted based on known subscriber data. And, push is proven to drive engagement with open rates that average over 90 percent. They're also ripe for monetization with the same options as email—native, sponsored notifications and sponsored content—making them an extremely lucrative solution with true 1-to-1 engagement that delivers 100-percent audience impression monetization.
While Facebook rode a meteoric wave of popularity as publishers jumped on this new channel for engagement, for many publishers, the rug has effectively been pulled from under the strategy they've invested in so heavily. Fortunately, these new/old channels provide a ripe opportunity to recapture some of the audience share and monetization lost as Facebook's finicky algorithms shut publishers out.
By using a subscriber's address as the unifying identifier across all channels, publishers not only benefit from richer data for more accurate targeting, but can also target with the context and relevancy of subscriber interactions across these channels. By connecting the dots, publishers can now know how an individual audience member took action (or not) in an email, on a native web ad or in a push notification, to get a clearer, more comprehensive picture.
Armed with this data, publishers can make themselves more attractive to advertisers who can leverage this deep audience knowledge, along with CPC-style placement and billing, to maximize brand reach and ROI.
---