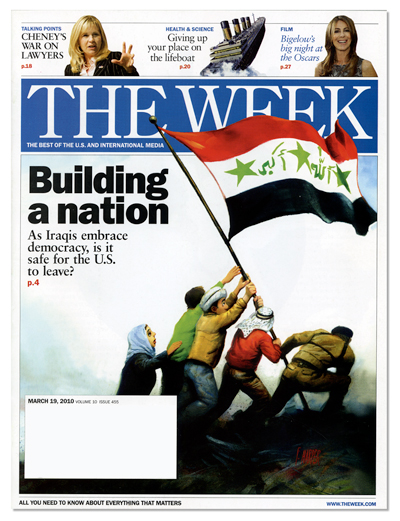 The business of magazine publishing isn't what it was five years ago. On the consumer side, publishers saw advertising pages slide 25.6 percent in 2009 and estimated revenue dropp 18.1 percent, according to Publishers Informaton Bureau. On the trade side, pages dropped 28.6 percent last year while revenues fell 24 percent, per Business Information Network.
What do the revenue losses mean? In part, it pushes several publishers to cook up creative ways to make and/or save money. Last fall, for example, Playboy Enterprises said it agreed to farm out Playboy's advertising sales, circulation, marketing, production and all other business operations to American Media Inc. Playboy, though, would continue to oversee the magazine's editorial operations. Under terms of the contract, AMI said it will be paid "potential fees" in the range of $5 million for advertising, circulation, production and related services. This, the company said, would result in profitability of approximately $2 million.
Although arguably the biggest move of its kind in recent months, that certainly wasn't the only. Late last year, Felix Dennis' The Week struck up a distribution partnership with Time Inc. that, according to The Week president Steven Kotok, saves the magazine "six figures" in monthly distribution costs. Both publishers print magazines at the same Merced, California printing plant and realized it made sense to combine their distribution efforts.
"We were both sending trucks to the same newsstand and postal facilities, on the same days—in other words, two not-full trucks leaving at the same time, going to the same places," Kotok told FOLIO:. "It made sense for The Week to share trucks with the Time Inc. titles that bind at the same time. The result has been significant savings for each of us, as well as a greener, more efficient distribution operation."
Kotok said although The Week competes in some markets with certain Time Inc. titles, the cost reduction made the deal a no-brainer. "Print, paper, and distribution are by far a weekly's largest costs," he said. "As an independent, we don't have the efficiencies that large companies have, so we've always been open to any type of cooperation that can reduce costs and increase our profit. In our early years, we didn't see a lot of interest from potential partners, who were more focused on competition and may have then viewed us as more of an upstart. Between The Week now being established and successful, and the current business climate, we're seeing more openness from other companies in terms of mutually beneficial cooperative arrangements."
Another recent partnership that also involved Time Inc. was with Smithsonian Media. Announced last month, the deal has Time Inc. folding the Smithsonian magazine brand into its corporate sales efforts. While Smithsonian will benefit from Time Inc.'s larger coprorate deals,  the partnership is not intended to replace Smithsonian's pre-existing sales operation.
"We felt it was a great opportunity to develop multiple programs with Smithsonian as part of what Time Inc. can bring to the table," Leslie Picard, president of Time Inc. corporate sales and marketing, said at the time. "The brands marry up well for a number of our advertisers."
When contacted by FOLIO:, a Time Inc. spokesperson said that while the partnership with Smithsonian has been "well-received in the marketplace," it is still too early to share even initial results, and declined to offer any sales projections.