Publishers Look to Capitalize on Obama-Crazed, Print-Buying Public

Newsweek to publish standalone election issue.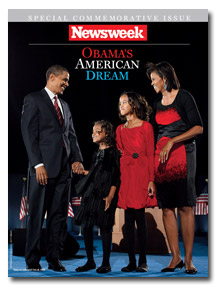 RELATED SLIDESHOW: Covers of the Campaign
Looking to capitalize on consumers who have been buying newspapers and magazines in record numbers following last week's presidential election, magazine publishers are rolling out covers and special issues commemorating Barack Obama's historic campaign.
Newsweek is set to publish a special issue dedicated to Obama's win.
The 84-page issue, hitting newsstands today, will carry a $7.95 cover price and remain on sale until February, 2009.
"We wanted to do a standalone issue that celebrates this historic moment in American history and the American presidency," said Newsweek editor Jon Meacham, who calls the issue "a keepsake."
The election of Barack Obama produced "a clamor for newspapers that publishers said they had never seen," according to a report in the New York Times, with millions of copies selling out, forcing publishers to order up extra print runs. According to the Pew Research Center, 23 percent of Americans are saving a newspaper with election headlines.
RELATED SLIDSHOW: Newspaper Covers from Wednesday, November 5, 2008
The New York Times had printed 35 percent more than the usual number of copies for individual sale on the Wednesday following the election, an increase of about 150,000, the paper said. Later, it printed 75,000 more. The Washington Post printed 350,000 copies of a special edition of the Wednesday paper, charging $1.50 per copy. The paper normally prints 100,000 and charges 50 cents per copy. "I've been here for 21 years and I've never seen anything like this," a WaPo executive told the Times.
Meanwhile, election editions of both Time and Newsweek printed 100,000 more copies than usual for their first press runs, the magazines said last week. Other magazines, like New York and People, rushed to get their post-election issues printed and on newsstands.
Newsweek has tried other ways to create ancillary revenue from its campaign coverage. In October, the magazine rolled out a series of e-books for Amazon's Kindle collecting its election coverage for each presidential and vice presidential candidate. It was the first magazine to publish a collection of its coverage as an e-book for the device, Amazon said.
Meet the Author
---