To paraphrase Senator John McCain—let's have some straight talk. The newsstand as we know it is nearing endangered species status. How much further do newsstand sales have to decline before publishers take corrective action?  
It's well known that newsstand sales are in the dumper, but the depth of the audited publication sales slide in the first half of this year is even greater than has recently been reported by the media. A 9.6 percent sales decline (reported by the media) is huge, but the extent of the actual slide is more than 20 percent greater.
The reason for the difference is that the numbers reported by the media only represent the sales status of titles that were audited in both the first half of this year and the first half of last year. It doesn't, however, include titles audited a year go, but have either ceased being audited and/or have discontinued being published. Examples include; Soap Opera Weekly, Soap Opera ABC, Soap Opera CBS, Cooking with Paula Deen and Spin. If sales data from discontinued/no longer audited titles are included in the calculation, the overall unit sales decline is estimated (based on preliminary ABC reports) to be a breath-taking 12.8 percent and a corresponding 12.2 percent fall in revenue.
The Newsstand Channel Is Being Hollowed Out
The devastating first-half sales are, as we're all aware, not an anomaly. The steep decline began in the first half of 2008 and has essentially continued unabated since then. A brief recap illustrates the accumulative depth of the sales slide: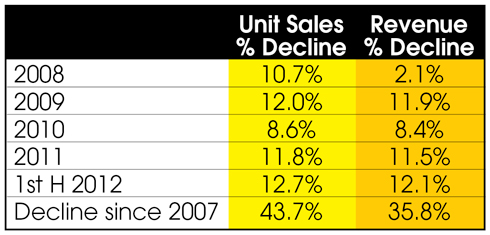 The unit sales of audited publications have declined nearly 45 percent in the last four and a half years. Since 2007 it's estimated that by the end of 2012 the annual unit sales of audited publications will have fallen from about 930 million to 510 million—a staggering annual sales loss of 420 million copies. The revenue will have declined from $3.2 billion to approximately $2.4 billion.
What's Gone Wrong?
There are many explanations for this decline—the great recession, fewer store visits and a more cost conscious consumer. But the most significant has been the impact of technological change that has increased the proclivity of consumers to acquire news and information on a range of mobile devices that are offering better and better user experiences. Together all of these things have contributed to the decline.
Should the Decline Have Been So Steep?
In this 4-year period of unprecedented change a substantial sales decline would certainly have been expected. But should it have been so severe? I would argue the decline has been exacerbated by a timid publishing community and the restraints of an antiquated newsstand channel distribution system. The channel has, in effect, been held hostage by a costly, inefficient system loaded with duplication of effort. This is largely a product of its two-middlemen (wholesalers and national distributors) configuration.
Years ago the channel probably required a two-middlemen check and balance approach in order to meet the needs of accommodating a vast distribution network with over 500 independent wholesalers. Today just three wholesalers control the majority of all magazine newsstand distributions and the two-middlemen configuration seems seriously out of date. However, the corrosive often adversarial nature of this configuration continues to persist, which has seriously thwarted the prospect for channel reform.
As I indicated in a February story (after the audit bureaus reported last year's second-half sales) the magazine newsstand had reached viral conditions and it was clear that the desperately persistent decline was now feeding on itself. Six months later the first half results (the steepest sales decline in recent history) only confirms the viral nature of channel conditions.
Publishers and Wholesalers: Coping in the Age of Newsstand Austerity
Publishers
For years publisher's newsstand actions were dictated primarily by competitive self-interest. They largely ignored the health of the supply chain and the financial sustainability of its wholesaling "partners." These actions, although seemingly counter productive, were precipitated by the huge diversity of the publishing community (like herding cats) and by the knowledge that they had a range of other alternatives (not just newsstand circ) for delivering readers to meet their circ level requirements.
The trend to less single copy circ has been continuing for many decades, but the recent 4-year newsstand sales decline, coupled by the advent of digital (replica) circ, has intensified the effect of the newsstand sales decline.
Let me give you a current example of how this works. People Magazine, the undisputed newsstand sales leader, experienced a nearly 19 percent decline in newsstand sales in the first half of this year. This translated to a 214,000 drop in newsstand circ. But People's total paid circulation (nearly 3.6 million) remained virtually the same as it was in the year previous period (actually it was up about 6,000). To compensate for the "lost" newsstand circ, the subscription circ was increased by 220,000—this included a 77,000 increase in verified circ. Additionally People reported (for the first time) 37,000 replica circ.
The point here is publishers have alternatives for compensating for "lost" newsstand circ. But it comes with some serious tradeoffs. Adding subscribers to meet circ level requirements generally increases reader acquisition costs and, of course, the added subscribers remove potential newsstand buyers from the market, which has a subtle, but real, impact on future newsstand sales.
Wholesalers
On the other hand wholesalers have far fewer alternatives for compensating for declining newsstand sales. Essentially those alternatives come down to reducing costs and increasing scale (growing market share). That's exactly what's happened. Wholesalers have lowered costs by reducing staff, consolidating distribution management at central locations and curtailing much needed system improvement investments.
Although it's difficult to measure the sales effect of these cost-saving initiatives, by all accounts the cost containment strategy of wholesalers has definitely contributed to the sales slide. In the process the three remaining wholesaler groups continue to battle for market share. The News Group, one of three major wholesaling groups, has recently taken the Kroger account (a major seller of magazines) from another super-wholesaler, The Source. The News Group and Hudson News teamed to buy CMG, a large national distributor, from Hearst and Condé Nast. It's still too early to read the results of this precedent-setting move, but I suspect it's quietly resonating in the market. All of this appears to be setting up the inevitable battle for wholesaler survival among the three remaining wholesaling giants. This battle may come to nothing, but in the interim it's helping keep the fragile newsstand channel in an unsettled condition.
In a declining newsstand market publishers have options, albeit they're often costly. Wholesalers have a lesser number of viable options for coping in a down market. They are desperately trying to keep their financial ships afloat, while fighting a market share battle, which could eventually reshape the newsstand channel.
It's Up to Publishers to Save the Newsstand Channel
Publishers have alternatives for replacing "lost" newsstand circ. This, however, has provided a false sense of security that has partially blinded them to the perils of a newsstand channel with greatly diminished capabilities. Yes, the prospect of more digital circ is in publisher's future, but let's be clear about the realities of consumer magazine publishing—for many years to come publishing survival will continue to be based on producing quality print products, attracting a cadre of advertisers, cost effectively acquiring print readers and protecting prime sources of circ (reader) acquisition.
None of the many circulation sources is more important than the newsstand. Without a viable newsstand sales market the prospect for the survival of consumer magazines will be seriously diminished.
Wholesalers and publishers, whether they like it or not, are bound at the hip. Publishers desperately need a viable newsstand channel and wholesalers need publishers that are fully committed to producing product with retail sales appeal.
What Can Be Done to Slow the Sales Slide?
At this juncture it's not a matter of growing sales, but slowing the devastating 10 percent rate of annual decline. It's no secret that channel efficiencies can be improved, duplicate effort eliminated and costs reduced. If that happened it could go a long ways towards stemming the severity of the sales fall.
If publishers and wholesalers needs are mutually dependent why aren't these things being done?
Resolve the Scan-Based Trading Issue
There is no simple answer. But if I were to pick the major sticking point it involves the publisher/national distributor/wholesaler battle over how to adjust to the effects of scan based trading. Scan based trading now dominates wholesaler relationships with their major retailing clients. However, publishers/national distributors have not fully accepted this reality. It's too complicated an issue to fully discuss in this note, but the gist is it revolves around publishers accepting scanned sales data, shifting inventory control to publishers and coming to grips with the so called "shrink" factor (the difference that may occur between scanned data and actual counts). There are also some audit bureau issues involved.
Scanned-based trading is a thorny issue, but resolving it may hold the key to unleashing the prospect for improving efficiencies and reducing channel costs. Publishers and wholesalers should be encouraged to resolve the scanned-based trading differences, which, in turn, will enable them to get on with the task of working more cooperatively to address the more important issue of stemming the sales slide.
I believe the ball is in the publisher's court. They must step up to bat and get this done. If not the future for the newsstand looks very gloomy.