Publishers and Marketers Talk Generating Revenue with Social Media

Building and selling successful advertising campaigns discussed at min panel.
While quality social media branding is a swift and efficient way to extend reach and expand audiences, media companies struggle to translate digital influence into innovative and lucrative ad products for their marketing clients.
At min's "minsider" Wednesday breakfast, a panel of magazine publishers and media marketing executives met and discussed strategies that work and don't when buyers and sellers merge content and engaged audiences with social-based marketing campaigns.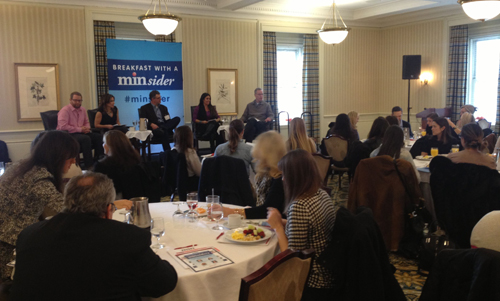 Colin Browning, director of marketing services for IDG Global Solutions and Entertainment Weekly publisher Melissa Mattiace joined Jeff Melton, chief distribution officer for MRY, and Michelle Myers, vice president and publisher of Brides magazine, to confront the realities of producing and marketing digital advertising campaigns.
"How do we go beyond the impressions and reach and build something truly engaging?" Melton asked. "For an agency, it's about how you build real-time content that's sharable and relevant for brands. We have Oreo to thank for this real-time buzz."
The "Dunk in the Dark" ad the Oreo cookie company tweeted out during the 2013 Super Bowl blackout launched thousands of retweets and hundreds of imitations.
"Agencies and brands are setting up these war rooms…that are just a gimmick because if you have quality insight, you can tweet a comment two days later and it will still resonate and people will still share it," Melton said.
Beyond the on-going real-time social marketing struggle, a holdover from 2013, this year is shaping up to be about capitalizing on video content and monetizing it effectively.
"YouTube is a missed opportunity," noted Myers. "I think if we don't look at video in a bigger way and strategize, we'll miss money."
Brides partnered with Randi Zuckerberg, sister of Facebook-founder Mark Zuckerberg, to create the first-ever live streamed wedding in 2013. The event provided the company an opportunity to both generate revenue and stay at the forefront of the social bridal conversation.
For those looking for quick tricks to standardize social ad products or boilerplate pricing and packaging of social programs for sales teams, the publishers advise against it.
"Everything we do is customized and customizable; it's specifically for the advertiser, agency and their target audience," said Mattiace. "There are some practices that are standardized, but custom is the way we work."
"Customization is at the forefront of what we're hearing that the agencies want so they can figure out their priorities," Myers added. "For publishers and sales people, you can sell bigger initiatives that aren't standardized because you can keep adding on to that and make it sexier and get more money."
However, customizable is "a daunting process" admitted Myers, who also noted that agency support for initiatives is sometimes lacking.
"It depends on which day you catch us," Melton said in response. "Let's be honest, sometimes you've got a ton of time for collaboration and sometimes you're reacting [quickly]. That's when boilerplate comes in handy."
Regardless of how you package an ad program, all of the experts agreed that content is the underpinning of every successful marketing campaign.
"Paid, owned and earned media is the foundation of our success," contended Browning. "Owned media is our core, earned media is our relationship with our audiences and paid media is really just creating those unique efficiencies. The combination creates the magic for our customers."
 
Meet the Author
---