E-commerce is a big opportunity for publishers. "If you talk to the people at Net-A-Porter or the people at Gilt, they say they're increasingly commerce companies moving into content and I think what you're going to find is content companies are going to move into commerce," Hearst Magazines president David Carey said earlier this year. "It's a service to the reader that they can just click…and be able to buy it."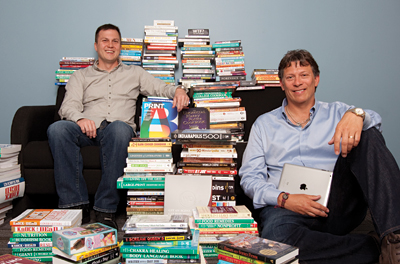 Recent years have seen publishers turn to the Web to sell subscriptions for their print magazines (Hearst alone sells more than 3 million subscriptions per year online). However, publishers are now moving well beyond selling subscriptions or even digital content.
Last month, Hearst Digital Media partnered with Pixazza Inc. to integrate e-commerce into select advertising on sites such as Housebeautiful.com. In May, New York Media launched New York Deals, a New York City-specific online program that offers weekly round-ups of deals for dining, shopping, spas, activities and events. Meanwhile, J.P. Morgan Chase last month took a minority stake in Ebony and Jet publisher Johnson Publishing, putting a cash infusion towards the publisher's growth plan, which includes a retail business (with products such as Fashion Fair Cosmetics).
The opportunity isn't limited to large consumer publishers, either. City and regional publisher Moon Tide Media offers e-commerce functionality with a series of online directories. Groupon has started targeting its business users. IT consulting firm Ajilitee launched a Groupon deal for $25,000 worth of business intelligence and cloud computing services for $12,500.
Ajilitee chief marketing officer Diann Biderback, wrote on the company blog: "We acknowledge this is an unusual go-to-market strategy for IT consulting services. In fact, to our knowledge, we're the first enterprise consulting firm to try it. Yet, we're intrigued by the way companies like Groupon and Living Social are changing the buy-sell model at the consumer level and can't help wondering how (or when) this model could be viable for B2B."
F+W Turns From Publisher to Retailer
Meanwhile, F+W Media, which recently announced that it will be opening its 25th e-commerce store in a joint venture with Hoffman Media, says e-commerce revenues are up more than 50 percent.
F+W (which once stood for "Farmers and Writers") publishes books, magazines and digital products serving a variety of enthusiast categories, from arts and crafts to hunting and firearms. CEO David Nussbaum took over in 2008 and found a company mired in print. "When I joined the company, the prime execution plan was to build websites for all the magazines and seek to drive aggressive traffic so that the key revenue play would be advertising," says Nussbaum. "I was surprised more hadn't been done to focus on the book business—nor to organize by community rather than channel (i.e. magazines, events, e-media)."
Nussbaum recruited former Penton e-media group publisher Chad Phelps as executive VP of digital media and looked outside the publishing industry for talent—including e-commerce directors from top retailers, online product managers, SEO and SEM experts and e-mail and traffic managers.
F+W's strategy includes five steps: organize by community; aggressively digitize all content; build and organize customer databases; study the buying habits and value of each consumer and launch "all-in" e-stores where consumers can find content, products and online learning. Today the company's 25 storefronts serve approximately 350,000 unique online shoppers, averaging between 12,000 to 15,000 transactions per month. Average order size is $47, while average units per transaction is 2.2.
"The e-commerce business is in the tens of millions of dollars and is our fastest growing segment with 50 percent year-over-year growth rates, says Nussbaum. "We expect it will be our second largest business—if not the largest—by 2014."
How They Did It
Like many publishers, F+W started with a small e-commerce presence. "Most publishers look at it as their brand or their imprint; we wanted to look at it according to how the enthusiast shops," says Phelps. "The first thing we really did is look at the consumer at the community level."
F+W launched its woodworking store first, building a template for other stores. By 2009, F+W fully rolled out its storefronts, although that presented the company with a new set of logistical concerns. "All those things a publisher doesn't have to think about it—the warehouse and how do we ship out a product to the consumer, bulk products to dealers and vendors—became things we had to deal with on a daily basis," says Phelps.  
Still, it's the customer-facing product that's most important right out of the gate, according to Phelps. "We operate as consumer to company, not company to consumer," he says. "Back-end integration is important, but we'd rather have to do more work on integration and less work on the consumer experience."
Growing Out of the Initial Template
F+W is currently migrating to a new e-commerce platform. "The platform we were on (Commerce V3) is a basic platform that's easy to launch multiple stores on and they were able to work with us to customize stores based on our needs," says Phelps. "But now we're getting to the point where there are too many SKUs in our stores now. We have too much traffic, we need a platform that can grow with us."
To determine its next back-end system, the F+W team went through an extensive platform evaluation. "We looked at the big GSI's of the world, we looked at Amazon's platform and we looked at self-hosting and developing our own platforms on the back of open source platforms," says Phelps.
F+W ultimately chose open source platform Magento (which is owned by eBay). "It's good for a medium-sized e-commerce business like ours. It's scalable and developers are widely available," says Phelps. "It's also able to handle our different products—selling both physical and digital products is a big consideration."
Developing Customers
Building storefronts is relatively easy. Developing customers and pushing them from one product to the next is more complicated. "We need to expose our audience to our entire portfolio of products," says Phelps. "We go through several processes depending on how we acquire customers. The subscriber database helps feed the retail database."
F+W conducts "soft marketing" to help form customer habits. "When someone comes on our list, we welcome them to our community, expose them to the content available online and expose them to the community available to them," says Phelps. "Then we filter in related products. We really want to nurture that consumer; once they're part of that fold, everything we present to them is useful to their hobby."
On the back end, F+W consolidates information in a customer database housed at its e-mail service provider. "In that database we store every piece of relevant information we can: how we brought that customer in—was it the bookstore, an event, a free download," says Phelps. "Once we know that, we tailor our marketing to that customer. We spend a lot of time tailoring the database so it serves as an e-mail/customer-of-record repository. That e-mail database is really our direct channel of communications with customers."
SIDEBAR
Building a Successful E-Commerce Business Without Breaking the Bank
Contexo Online director Jonathan Ray identifies seven essentials. 
Two years ago, b-to-b publisher Access Intelligence (now owner of FOLIO: publisher Red 7 Media) acquired Contexo Media, a Salt Lake City-based firm offering information products and software for the medical coding market. AI moved Contexo to an updated e-commerce platform developed out of its own homegrown CMS web store. "The web store is where we're bringing in the bulk of our revenue online," says Jonathan Ray, director of Contexo Online.
Here, Ray shares what he considers to be the biggest takeaways for publishers who want to ramp up their e-commerce business.
1. Relevant Experience
Contexo continually adds new tools and features to the storefront to make a more intuitive/relevant experience for customers.
"A lot of the ideas come from what's happening online—look at the pros like Amazon," says Ray. "You need to dissect the way they present relevant projects. When we launched our site a couple years ago, we had little to no control over what products would be displayed. Over time we've basically enhanced programming to fine-tune related products. You can't rely on programs to provide the most relevant experience for customers. It does require human interaction—especially at this level—to create the most ideal experience."
At the same time, companies sometimes must "dumb it down." "More than anything, don't forget common sense," says Ray. "What's the quickest way I can find it? Don't forget to make sure your search engine is a good application for customers and navigation is intuitive, segmented as well. E-commerce display design is very different from general content design. Amazon.com isn't a very attractive site but it works."
2. Platform Flexibility
Back-end e-commerce options abound, from paid-for solutions to open source e-commerce platforms (there are also e-commerce modules available for popular open source CMS like Drupal and Joomla).
Ray advises going with a system that offers as much flexibility as possible, which is helpful for customizing storefronts for different brands and offering on-the-fly updates.
"This provided us with the freedom to say, 'We need to do some fine-tuning here'," he adds. "It can be very specific to the way we're selling a product, such as with the shipping logic. Some of our products are the size of a phone book, others are a single page."
3. Marketing
"Our marketing engine is by far the most effective tool we have for generating a steady flow of transactions," says Ray. "Our marketing team deploys numerous targeted campaigns daily across various channels including e-mail, partner sites/lists, SEM and some print."
E-mail stands out as the best tactic for generating orders. "We've been tweaking our strategy over the past couple of years to target our product promos towards recipients who have requested information on a specific product type or have previously purchased or shown activity around that specific product type," adds Ray.
4. Customer Support
Be prepared for calls and e-mails every day from customers who need help.
"I cannot stress enough the importance of maintaining good communication with your customer support team," says Ray. "Also, keep them updated with all new product launches and planned marketing campaigns, as this provides them with the information to up-sell when they have the customer's attention."
5. Reselling
Contexo recently entered into a partnership to resell selected products from another publisher. "As part of our agreement, we will be taking orders directly through our web store and automatically passing along the order details to the publisher to fulfill," says Ray. "They invoice us monthly for their share of the revenue and we've barely lifted a finger since we're not inventorying their products and we removed ourselves from the fulfillment process."
6. Measurement
Contexo uses a number of tools to measure e-commerce performance. "We look at a variety of data ranging from transaction counts and revenue generated from our shopping cart, as well as traffic and activity data from our web analytics tools," says Ray. "We've recently taken our measurement a step further to more accurately track the effectiveness of specific digital tactics. Rather than just looking at the performance of a marketing channel in general, such as e-mail, or SEM or web advertising, we can more accurately measure the components within that channel as it relates to a conversion. So we can see specific links/gfx within an e-mail that lead to an order, as well as specific SEM campaigns and advertising or navigation items."
The KPIs Ray and his team are paying close attention are transactions, average order values, revenue per visitor and conversion rates. "Comparing this data month-over-month can help you identify opportunities, seasonal trends and problem areas," he says.
7. Dynamic Communication
Contexo tailored its store communication tool over the past year to send triggered messages both online and in e-mail to customers based on actions they take. "For example, we can send a cross-promo message with a customer's order confirmation based on a specific product they purchased," says Ray. "Looking ahead, relevancy is where we will be concentrating our optimization efforts."
Most importantly, remember that building an e-commerce platform is a big time investment. "Try to think through the logic of how you'll be presenting items. There's nothing wrong with starting small and building on to it."