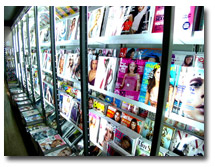 NEW YORK—With dwindling newsstand and advertising revenue, slashed marketing budgets, skyrocketing postal and production costs—and, oh yeah, that recession thing—consumer magazine publishers need be innovative, perhaps more than ever before, to survive.
And they're probably going to have to blow up the church-state boundary between advertising and editorial, too.
Those were the bullet points that dominated a lively discussion among some 700 advertising and publishing executives at the 12th annual New York Magazine Day Wednesday.
Given the tough economic climate, John Griffin, National Geographic group president and Magazine Publishers of America chairman, said publishers must position their magazines to grab post-recession advertising. "Those are unallocated dollars," Griffin said. "When that money comes back, I want it to come to us rather than someone else."
The challenges, Griffin acknowledged, are to meet the demand for faster audience metrics while appeasing advertisers who are used to the speed of the Internet, overnight television ratings and the other media willing to bend and contort to integrate marketing messages into their product offerings. "Advertisers want to borrow—or steal—the credibility and authority we have with our readers," Griffin said. "And we want to give it to them" without threatening the credibility and authority, he said. "[At National Geographic] we're always asking 'How far can we go with this?' It's a contestant internal struggle."
"It's the single biggest point of contention within our company," said Deidre Depke, Newsweek.com's assistant managing editor. (Depke recently took a buyout from Newsweek and is leaving the company, one of many longtime editorial staffers to do so.) "The only editorial asset our magazine has is its content—for us to abandon that, and let advertisers do what they want with it, would be a big mistake."
'Handcuffs'
But Steve Sturm, group VP of strategic research and planning at Toyota Motor North America, said magazines need to realize that their readers don't care as much about editorial ethics and the concept of a church-state line as publishers—if at all. "[The line] has been self-governed and self-policed—you've put the handcuffs on yourselves," Sturm said. "The federal government, the state government, they haven't told you to do it. You put up all these roadblocks" that other media don't have. And a younger generation of potential readers, he said, "don't play by the same rules you play by."
Another challenge young readers present, Griffin said, is a substantial pressure on newsstand price. "Younger consumers expect content to be free; we have to deal with that."
"It's critical we get their attention," Griffin continued. "They're not going to the newsstand."
But Griffin said that improving the speed of audience metrics—as evidenced by the MPA's recently-announced initiative to do so—is the top priority in 2008. We need to figure out a way to give [marketers] metrics at the speed they are demanding," Griffin said, before clarifying. "Well, maybe not that speed, but faster than we are now."