Publisher Puts Media Kit on Flash Drive

Storm Mountain's media kit goes from print cards to flash drives.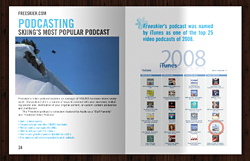 Like virtually every media company, winter sports enthusiast publisher Storm Mountain began its foray into media kits with standardized single cards and printed kits for its titles, Freeskier and Snowboard.
But since SMP produced its first issue over 10 years ago, CEO Brad Fayfield says that the title has seen incredible success in its digital space, with unique visitors up 61 percent, pageviews up 10 percent and video plays up 35 percent from 2007.
Putting its media kit online was the only logical next step. Enter state-of-the-art media kits on USB flash drives. At 72 and 62 pages, respectively, Freeskier and Snowboard's digital flipbooks not only allow advertisers to download printable PDFs of editorial calendars and spec sheets, but also examples of video reviews and pre-roll from clients Jeep and K2 Skis.
Making the Jump
So how did SMP make the transition from print to USB? "We purchased a flash page flipper online and customized the interface," says Fayfield. Its production tools, "rudimentary," as Fayfield describes them, cost about $500. The flipbook pages were created in InDesign, exported as JPGS and then converted to flash.
Since the front-end customization was put in place by SMP's staff, the publisher has been able to easily update its constantly-changing Web metrics and print numbers. "About three or four months ago, podcast views were at about 50,000 downloads per month," says Fayfield. Since the flash drives were created at the end of 2008, SMP has seen its podcast monthly views increase to 100,000. He adds: "The digital space is so dynamic; it's nice not to be handcuffed."
To deliver its kits to advertisers, SMP offers it as a link and a USB flash drive. "These 1 GB drives, which include logos, are about $6 a piece to make," says Fayfield. He estimates having spent about $5 to produce print kits in the past.
While it may be a net-net cost-wise, the "excitement is phenomenal," he says. At a recent trade show, Fayfield says advertisers "enjoyed the print, but all they wanted to do was get into interactive stuff."
Despite "booking right now being harder than ever," the USB flash media kits have generated interest, says Fayfield. "Advertisers have asked us if we can build something similar for them."
Meet the Author
---