Publisher Partnerships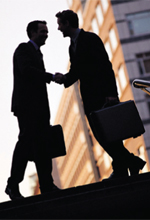 Former (and current) foes are joining forces to see significant cost savings and even drive revenue.
In tough times, more publishers are leaning on each other to get by, often with noteworthy results. Last fall, for example, Playboy Enterprises agreed to farm out Playboy's advertising sales, circulation, marketing, production and all other business operations to American Media Inc. Playboy, though, would continue to oversee the magazine's editorial operations. Under terms of the contract, AMI said it will be paid "potential fees" in the range of $5 million for advertising, circulation, production and related services. This, the company said, would result in profitability of approximately $2 million.
Late last year, Felix Dennis' The Week struck up a distribution partnership with Time Inc. that, according to The Week president Steven Kotok, saves the magazine "six figures" in monthly distribution costs. Both publishers print magazines at the same Merced, California printing plant and realized it made sense to combine their distribution efforts.
Meredith Corp. reported a 15 percent drop in paper costs in the second quarter of fiscal 2010. While they won't officially comment, sources say that was a direct result of Meredith and Time Inc. sending joint proposal requests to paper suppliers last year.
Time Inc. last month announced a deal with Smithsonian Media to fold the Smithsonian magazine brand into its corporate sales efforts. While Smithsonian will benefit from Time Inc.'s larger corporate deals,  the partnership is not intended to replace Smithsonian's pre-existing sales operation.
"We felt it was a great opportunity to develop multiple programs with Smithsonian as part of what Time Inc. can bring to the table," Leslie Picard, president of Time Inc. corporate sales and marketing, said at the time. "The brands marry up well for a number of our advertisers."
Smaller publishers aren't left out in the cold. The Integrated Media Cooperative, a purchasing co-op for small publishers, has recently teamed with American Business Media and in the past has saved companies like Ascend Media six-figures on paper buying.
VITAL STATS: Meredith reported a 15 percent drop in paper prices, attributed in part to joint proposal requests with Time Inc.
BACK TO THE 2010 FOLIO: 40 MAIN PAGE 
Meet the Author
---