Publisher Out at OK!

General manager Brownridge hires new publisher, editor, exec creative director.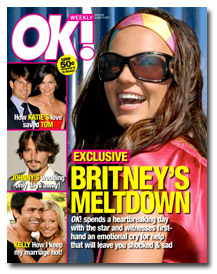 Less than a month after taking over as general manager at OK!, former Alpha Media CEO Kent Brownridge already has made several changes to the celebrity magazine's leadership team.
Brownridge has replaced outgoing editor-in-chief Sarah Ivens with Susan Toepfer, who served as editor of Hearst's now–shuttered Quick & Simple, according to a New York Post report. Ivens, who helped launch the U.S. edition of OK!, recently announced her plans to leave the magazine before year's end.
Brownridge also laid off publisher Tom Morrissy, replacing him with Lori Burgess, a former senior vice president and publications director at Niche Media. Morrissy's ouster comes as the magazine posted a 34.4 percent increase in ad pages through the third quarter, according to Publishers Information Bureau figures.
"We ran 422 ad pages in 2006 [when the U.S. edition of OK! launched] and we are on pace to almost double that to 800 pages in 2009, and triple revenue from $21 million to $61 million," Morrissy, who could not be reached for comment, said in a recent interview with FOLIO:.
According to a source close to the company who wished to remain anonymous, Morrissy "just wasn't [Brownridge's] kind of guy."
OK! also has hired former Radar freelancer Trey Speegle as executive creative director, according to the Post report. Earlier this week, the magazine hired Lisa Dallos and Freud Communications as its new public relations team, replacing publicist Brian Strong.
FOLIO: e-mails to OK! and Dallos were not immediately returned.
Meet the Author
---