Publisher to Distribute Content via Playstation

Future US first company to publish on video console.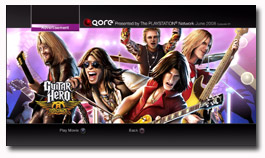 Future US, special interest publisher of titles including PC Gamer, Official Playstation and Xbox magazines, has launched a monthly digital program, called Qore, to be distributed on the Playstation Network.
"Qore is a uniquely targeted product, reaching gamers in the interactive, high-definition environment of the console itself," said Future US publishing director Simon Whitcombe in a statement. "For consumers it is a relevant and compelling new format for media, and for advertisers it's a pipeline straight to the game-playing audience."
The program allows users to download Qore content—including playable demos, game previews, strategies and interviews with developers and industry figures—through their PlayStation console's broadband connection and view it on a television screen.
Future US holds exclusive rights to sell advertising—such as trailers, interstitials and contextual ads—on the program and has already sold to Burger King, Universal Pictures and Activision, among others.
Users pay an introductory price of $3 for the first issue or $25 for a 13-episode subscription.
Meet the Author
---