Publisher Agrees to Pull Cockfighting Magazine from Amazon

Partial settlement reached in Humane Society's case against retailer.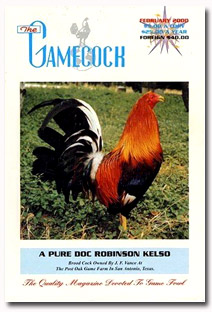 The publisher of a cockfighting magazine has agreed to stop selling it on Amazon.com after the Humane Society charged that its sale violated federal law.
But Amazon has vowed to fight on, arguing it has the constitutional right to do so.
The Humane Society announced the partial settlement in the suit filed last February against Amazon, Hartford, Arkansas-based Marburger—publisher of The Gamecock—and the publisher of another cockfighting magazine called the Feathered Warrior.
As part of its settlement, filed in U.S. District Court in Washington, D.C., Marburger agreed to reject all advertisements for fighting animals or knives marketed to be attached to fighting animals, to run an ad in its magazine stating it won't accept those ads and to stop fulfilling subscription requests sold by Amazon. (A listing for the magazine was still live on the Amazon site Thursday.)
Ethan Eddy, lead counsel for the Humane Society, told FOLIO: he hopes the settlement will encourage the 105-year-old Feathered Warrior, also based in Arkansas, to pull the title from Amazon and reject ads that promote violence, and that Amazon will eventually comply.
In the suit, the Humane Society alleges that Amazon's sale of cockfighting magazines violates the federal Animal Welfare Act. Cockfighting is illegal in all 50 states except Louisiana, where it will be banned in August.
Lawyers for Amazon referred a call for comment to Amazon's PR department. Amazon did not immediately return a request seeking comment.
'Freedom of Speech Issue'
"We see this as a freedom of speech issue," Amazon spokesperson Patty Smith told CNET last year. "In our mind, freedom of speech is designed to protect unpopular or ugly speech, and we don't think customers want us picking what we think is appropriate for them to read. Our stated goal is always to provide customers with the broadest selections possible."
"What Amazon really means is something closer to 'We don't want to risk turning away any customer, because the cockfighting enthusiasts and the pedophiles will order mainstream products too,'" Ron Hogan, a former Amazon.com employee and editor of mediabistro.com's GalleyCat blog, told FOLIO: last fall. "They'd rather not have those dollars going to Barnes & Noble."
Meet the Author
---