Prosper Magazine Folds

Owner: economic model 'just wasn't working.'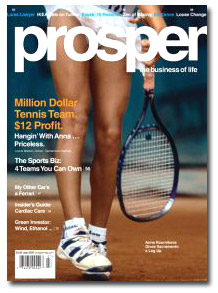 Less than six months after undergoing its first redesign and assuming a new tagline, "The Business of Life," executives at Sacramento, California-based Prosper magazine have decided to shutter the print publication and lay off its nearly 20 employees. The December issue, which hit newsstands this week, will be its last.
In a video message posted to the magazine's rather flashy Web site, Prosper Media majority owner Mike Teel attributed the folding of the regional business and lifestyle monthly to poor revenues. Teel indicated that he is considering two proposals for Prosper online initiatives.
"The economic model that we had running here at Prosper, both Prosper Media and the print publication, just wasn't working," Teel said in the message. "What we needed to do was to eliminate the pressure of the ongoing business to give us the time and platform to rethink the model."
Prosper launched in 2005 as a Sacramento-area business magazine. Late last year, the company hired tech business journalist Jeffrey Young as editor-in-chief to lead the magazine in a new editorial direction that included a greater focus on lifestyle content. In his message, Teel admitted that the magazine had "strayed a bit" from its hard business content but said that Sacramento-California's capital-is a difficult place for a business magazine to secure ad revenue. "This is a government town first. We don't have a lot of corporate headquarters here, so there's not a lot of business interested in branding," he said. "That's been a challenge since day one."
Last March, the company hired a new art director and in June unveiled the magazine's first redesign. The issue won FOLIO:'s gold Ozzie award this fall for best consumer magazine redesign.
Teel declined to offer any financial details in his message but said the company would honor its business obligations. Prosper Media general manager and vice president David Smith did not immediately return a request for comment.
Meet the Author
---