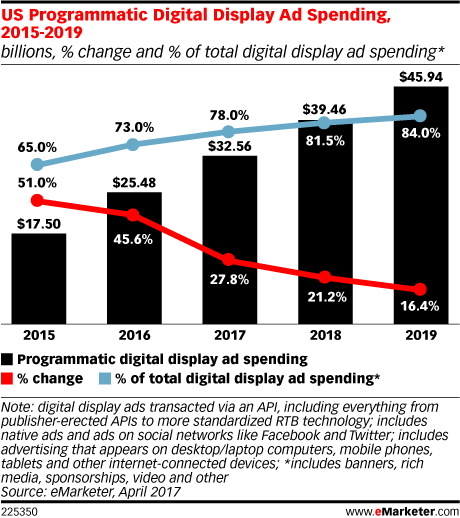 Nearly four out of five U.S. digital ad dollars will transact programmatically this year, according to eMarketer estimates released today. That's a striking bit of optimism about an industry plagued by recent missteps in which some of the biggest advertisers in the business found their prized ad buys alongside anti-Semitic and otherwise racist content.
Perhaps in reaction to the PewDiePies of the world, the share of programmatic purchases made on the open exchange is decreasing. Today, 74.5 percent, or $24.25 billion, goes to private market places and direct programmatic buys, and this number is growing. eMarketer estimates that direct programmatic will represent 56 percent of all display spending in 2017, while only 44 percent will be bought in the real-time bidding that has given programmatic its reputation as bad for brand safety.
This is good news for magazine companies like Salon, who have doubled down on programmatic sales while emphasizing audience knowledge and a strong editorial voice. It's less good for tech giants and much smaller media brands — local mommy bloggers may struggle now that there's less faith in Google AdWords.
Despite the controversy surrounding Google's YouTube, eMarketer also estimates that video will grow 42.3 percent this year, up to $9.13 billion, and that nearly three-fourths of all video ad dollars will be sold programmatically by 2018.