Profiles in Integrated Sales

Three publishers describe their favorite custom sales packages.
Advertisers these days are pushing marketing that has a transactional goal at the end of the campaign. These programs are data intensive and reflect the need to make sales happen now rather than building awareness with a branding effort. Yet, through smartly executed integrated sales packages, publishers are able to support the data and transactional-intensive needs of marketers while including the branding angle.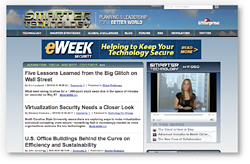 A THIRST FOR DATA

At Ziff Davis Enterprise, an integrated sale is defined as a program that simply stretches across multiple platforms within a product line. This definition is common among publishers, but ZDE has seen a shift to data and results-oriented services. "Everything that we do has basically five main product areas: Online, lead generation, events, content, and print. Then we have a whole series of services that attach onto those pieces—lead management, and so on," says Josh Heitsenrether, senior vice president of Strategic Services at ZDE.
Yet the difference these days, says Heitsenrether, is marketers are moving away from the 360-degree marketing approach to one that still uses multiple platforms, but targets the individual. "The biggest change we've seen is the user taking control," he says. "It's still about integration, but it's really more about the level of complexity and the relationship between the vendor and the user and getting them to a transactional behavior. More of it's digital and trackable and the requirements of the data and the end results are much more specific than we've seen in the past."
A project for IBM called Smarter Technology involved building a standalone Web site (SmarterTechnology.com) that pulls in appropriate content from ZDE brands and fosters user engagement through interactive discussions. Supporting the site is a series of newsletters that visitors can subscribe to and a virtual conference center built on the Second Life platform.
The project, which soft-launched in June 2009, was designed to create a separate editorial product and destination site for high-level tech executives while providing a platform to generate leads for IBM. "We can funnel the conversation through several layers including the Web site, newsletters and the virtual conference center," says Heitsenrether. "Participants can choose to watch the event, they can network during or after, as well as share questions with editors and other stakeholders."

Data Tracking is Key

Projects like this one are made possible partly by ZDE's focus on trackable user behavior online. "It's about knowing your audience and your subject matter and where they intersect," says Heitsenrether. "We track behavioral data 24/7/365 and it allows us to cater to the user's needs, which creates opportunities on the business side."
Since launch, SmarterTechnology.com traffic has quadrupled, says Heitsenrether, and levels of engagement with the content "remains at or significantly above the other network sites," he says. The virtual conference center has run 53 events.
Heitsenrether says a core philosophy of the group is renewable programs, and IBM is now in its second term with the Smarter Technology project.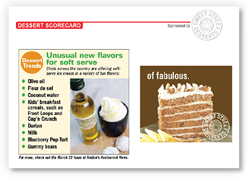 CREATING A SENSE OF OWNERSHIP

At Lebhar-Friedman, a b-to-b publisher in the retail, foodservice and healthcare markets, integrated selling, as it does for many publishers, still means covering three areas: print, live events and digital. Yet the company pays close attention to how the sale is approached. "We've always placed a very strong emphasis on making sure our sales people take a consultative approach," says vice president Randall Friedman. "Traditionally, we've required salespeople spend time in the field learning about the marketplace and the reader side. We have requirements where they have to do trade work, or field work. They're knowledgeable, they know what the readers are up against and what they're seeing. That's an important starting point. We don't want them simply hammering on what they have in their sales bags."
That consultative approach is conducive to the custom approach an integrated sale often requires. For one integrated project, Lebhar-Friedman worked with a third-party data provider to work up a research report on trends in the dessert food market. The report was created to support a cross-platform sale with a major dessert food manufacturer that has a substantial print and online campaign already in place with the Nation's Restaurant News brand.
"The print campaign is about maintaining the big-picture approach," says Friedman. "They want to use print to remind people how tasty these desserts are. They're also advertising on our Web site. That is more tactical. But it's also a way to stay in front of people all the time. Then they're also advertising in our daily e-newsletter. And this is where the custom component comes in."
Staying Flexible with Edit
Friedman's team, along with the editors, created a new section in the newsletter based on stories created from the third-party research. The dessert company sponsored the section. It's not an advertorial, says Friedman. It's straight editorial content that reports on trends uncovered from the research, but it satisfied the company's desire to be in the context of like-minded content that's unique to its market. "We worked with data centered around consumer trends and turned it into a story. [The company] wanted hard data, not general news stories. They wanted it based on consumer insights," says Friedman.
The research created an opportunity for a sponsored four-part series in the newsletter.
L-F's custom research has also opened up opportunities on the event side. Another round of market research revealed that C-level executives at major restaurant chains were getting involved with menu decisions—not just the R&D chefs. "This was eye-opening to the dessert company," says Friedman, and it led to exhibit sales for a show that the company had not been involved with in the past.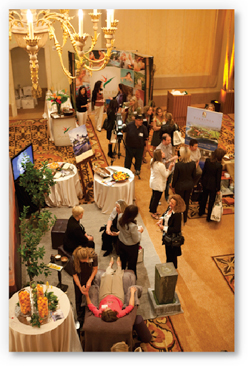 EVENT EXCLUSIVITY
At Bonnier's Travel and Lifestyle Group, a simple but effective integrated program pairs a print buy with a booth at an event specially created to amplify the client's message to a variety of media.
The Spa and Destination Weddings and Honeymoons brands each have two events in Los Angeles and New York that invite members of the travel and wedding media to convene to learn about the latest trends in each market. "We're able to pull a hundred or more media for any of our given events to participate in this," says group publisher Sue Gilman. "The package has legs with consumers because there's an ad in the magazine and legs with the industry because they read the magazine as well. And it also has legs for the advertiser because they're exposed to the larger media community at the event."
Each event features between 20 and 30 exhibitors and attracts about 100 representatives, writers and bloggers from media companies such as Martha Stewart Living, Rachael Ray, Frommer's and The New York Times. "It's like a fan trip where you bring in the writers to see the properties but you do it with a booth instead," says Gilman.
A $50,000 "platinum" package deal gets the client a page in the magazine, a booth at the event, newsletter placement, and placement in all of the online, mail and e-mail marketing. Spa has been offering the package for about seven years now, and the program was expanded with Destination Weddings and Honeymoons about a year ago.
Gilman describes the program as an offshoot of the magazine. The event itself was created as a marketing opportunity for the brands' clients. "We could just go out and sell a booth, but we're not in the event business, we're in the media business," says Gilman. "The event is a by-product of the magazine."
Each brand has expanded from one event to two and caps the attendee count at about 120, which places a premium on the intimate nature of the events.
Meet the Author
---