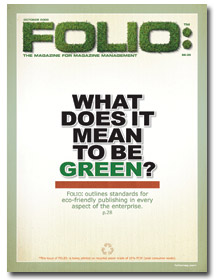 For socio-cultural reasons—some obvious, some not—the kind of paper that publishers print their magazines on has become a barometer of sorts when considering how "green" a magazine is.
Yet, of the 18,000 or so magazines printed in the United States, only 1 percent print on recycled paper consistently, according to Co-Op America's Magazine Paper Project.
It is, for some publishers, one of the most intimidating parts of publishing a greener magazine—and, despite new technology, one rife with misconceptions.
"There are only two differences in purchasing environmentally responsible paper instead of virgin fiber paper," says Frank Locantore, director of the Magazine Paper Project. "The questions you ask your supplier, and the resources available for information." Negotiating price, testing the sheet and working with suppliers, Locantore says, is the same.
One of the most important steps in selecting environmentally-responsible paper is using a credible forest certification service such as the Forest Stewardship Council to ensure the paper fiber you are using is harvested sustainably and does not come from areas of social conflict or high conservation value forests.
Hearst, for instance, requires the paper mills it buys from to pursue and/or operate a third-party certified "Chain of Custody" program to ensure that 100 percent of the fiber entering the mill complies with controlled logging standards. (At the end of 2007, about 97 percent of the paper Hearst bought was COC-certified, with a goal of reaching 100 percent this year.)
What Paper Should You Use?
First, Locantore says, the paper that publishers should not use are those that have no recycled content nor a virgin fiber component from areas of social conflict or endangered forests. The paper that publishers should use should have legitimate environmental characteristics—such as recycled content—and/or paper that is FSC-certified.
In terms of paper quality, recycled paper has evolved significantly in the last three years, with many suppliers offering high-quality, glossy finishes while still remaining environmentally friendly. Quality hardly has to be sacrificed to go green. Most recycled papers are available in both glossy and matte finishes, in all weights for text pages and cover stock.
The main thing to consider when choosing paper is knowing how much of the paper is post-consumer waste (paper that has reached its intended end-use consumer—see accompanying sidebar below).
Presently, there is no standard for how much of the paper should be pre- or post-consumer. Ogden Publications' Mother Earth News and Utne Reader use 100 percent post-consumer recycled paper. Mansueto Ventures' Fast Company and Inc. use 100 percent recycled paper with a minimum of 85 percent post-consumer recycled content. But most magazines going green, like American Media Inc.'s Shape, Natural Health and Plenty, have gone with 30 percent post-consumer waste paper. (Some paper manufacturers will even include up to 10 percent recycled pulp without notifying anyone because it doesn't affect cost or quality.)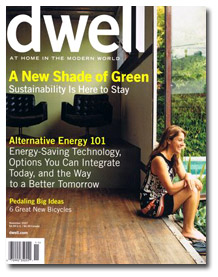 Reducing trim sizes and basis weights will also reduce consumption and cost. Dwell recently made the switch to recycled paper and offset the price premium by reducing its trim size. Subscribers have taken a keen interest in the magazine's impact on the environment, and are literally stopping by the office to learn more about it—a dozen people per month are given office tours, according to president and publisher Michaela O'Connor Abrams. "Readers want an alternative reading experience with green at the core," she says.
Publishers should also work with paper suppliers on cleaning the production process to reduce chemical use. Locantore says that would involve eliminating the use of any chlorine or chlorine-compounds in the bleaching process, reducing reliance on non-renewable energy sources and moving towards more alternative sources of energy such as wind and solar.
Time Inc. has been monitoring its environmental impact to such a degree that it employs a director of sustainable development in David Refkin, who has become one of the magazine industry's leaders in sustainability. "Part of my job is risk management and promoting positive change and turning it into a business opportunity," he says. Time Inc. buys 500,000 tons of paper annually from 53 mills.
As part of an enterprise-wide sustainability effort, Refkin says that the company has boosted its certified sustainable forestry paper content. Currently, 70 percent of its fiber meets CSF standards, up 25 percent from 2002.
What Does Going Green Cost?
Making the switch to environmentally-friendly paper does not necessarily mean you will be paying more. Depending on your relationship with your supplier, it may cost more, less or about the same as standard, virgin fiber paper.
Plenty, a consumer title focused on "green" lifestyle, is printed on 85-to-100 percent recycled, 30 percent post-consumer waste paper, which costs about 7.8 percent more than standard paper. "We are paying approximately $4.00/cwt," says Mark Spellun, Plenty's publisher and editor-in-chief. For the cover stock, Spellun says the magazine pays about 2.2 percent more for the 10 percent PCW paper ($1.00/cwt). The remaining 70 percent of the paper used in Plenty is FSC certified. "Sustainable business practices frequently cost more," says Spellun. "But there really is no alternative."
When Surfer made the switch to recycled paper three years ago, it estimated the additional cost of printing would be about $100,000 a year—an increase that forced the magazine to increase its cover price by $1.00 to $4.99.
What Kind of Ink is Green?
"Green ink" is very limited, Locantore says. While soy-based ink may sound environmentally-sustainable, the jury is out on "green" ink, at least so far. Petroleum-based inks dry quicker than vegetable-based inks, thereby using less energy. "It's near impossible for vegetable inks to dry adequately on a web press, which the majority of magazines use," he says. There is also the unknown aspect of the Life-Cycle Analysis (LCA) for vegetable inks, Locantore adds. "Is the production process for the LCA of the vegetable ink better than petroleum-based inks? It's not known yet."
But that doesn't mean publishers aren't using it. All of Ogden's titles use 28.7 percent soy-based inks.
Post-Consumer or Pre-Consumer?
Post-consumer
recycled paper is preferable because it forces there to be a mechanism
and infrastructure to recover the used paper from office buildings,
schools and neighborhoods. Pre-consumer recycled paper is also good,
but that paper already has an infrastructure established to recover the
paper. For instance, unsold magazines on the newsstand will be picked
up by the distributor when the next issue comes out and recycled–this
is considered "pre-consumer," as the magazine has not reached its
intended end-use in the hands of a consumer. A magazine purchased and
read at home, tossed into a recycling bin and turned into recycled
paper is "post-consumer."

Green Publishing Standards: Magazine paper should contain recycled waste, with 30 percent post-consumer waste a realistic goal (10 percent post-consumer content should be considered minimum). Using virgin fiber for your "green issue" sends a terrible message to your readers and the industry.
What You Can Do to Be Green: Use a credible forest certification service such as the Forest Stewardship Council to ensure the paper fiber you are using is harvested sustainably. Actively manage all aspects of your supply chain to reduce your magazine's impact on the environment.
Resources: Forest Stewardship Council; Co-Op America's Magazine Paper Project; the Magazine Publishers of America's 2008 Environmental Handbook

SIDEBARS:
'Green' Issues Fail to Convert Magazines to Recycled Paper
Despite
a green cultural movement—real or perceived—and a spate of so-called
"green issues," magazines have largely failed to convert to recycled
paper.
There are about 100 magazines currently printing on
recycled paper, says Frank Locantore, director of the Magazine Paper
Project for Co-Op America. Locantore says cost, misconceptions about
cost and general ignorance of publishers have contributed to the lack
of conversion.
Even a large number of "green issues" aren't
printed on sustainable paper, something Locantore says is the ultimate
irony. And even when they do, most magazine publishers don't continue
the practice for their non-green issues. Nonetheless, he says, there's
a momentum building for magazines to continue to demand green
alternatives from their paper suppliers.
Rachael Ray Goes (Dark) Green
While many publishers seem to drag their feet on converting to recycled paper, Reader's Digest's Every Day with Rachael Ray—one
of the industry's biggest success stories of the decade—made a
game-changing switch last November to 85 percent recycled paper with a
minimum of 10 percent post-consumer.
During a presentation at the
Publishing Business Conference in March this year, Reader's Digest
paper manager Brian Schwarze touted the benefits of their switch to
recycled paper: each year they save 125,000 trees, 7,800 pounds of
hazardous air pollutants, 380 garbage trucks of solid waste, and over
25 million pounds of carbon dioxide equivalent worth of greenhouse
gases.
Additionally, the magazine is switching mills to one
closer to its printer. "The new mill (outside of Chicago) is 160 miles
from the printer (Quad, in Lomira, Wisconsin) compared with the old
mill that was 1,060 miles away—that's a savings of 900 miles one way,"
the company explains. "That reduces emissions. Contrast that with some
magazine papers that are trucked across the country or imported from
Europe. Also, the mill is working with the printer on a closed loop
system, so when they deliver the Rachael Ray paper the same truck would
then be loaded up with the printed waste and shipped back to the mill."
"The press waste from the printing of Rachael Ray will go back
into the actual paper being produced for a future issue. Makes sense,
but understand that this is not the typical process in the industry."
SEE ALSO:
MAIN PAGE
OPERATIONS | The Importance of Stewardship in Sustainability
EDITORIAL | Does the World Really Need Another 'Green Issue'?
DISTRIBUTION | Efficiency–And Sustainability–At the Newsstand
EVENTS | How Eco-Friendly Can a Live Event Be?
MARKETING | A Paperless Future?
DIGITAL | Using Digital Editions to Go Green