Production Versus Edit: How To Bridge the Gap

Production execs discuss gripes with edit and offer real remedies.
There have always been misunderstandings between production and editorial departments. Maybe it's because production doesn't see the value in revising an already-late page if a photographer's name is spelled incorrectly; maybe, it's that some editors are ignorant of the constraints that the printing process—form breaks, ad placement and reproduction quality—put on a production department. Whatever the reason, this publishing Hatfield-McCoy feud can end up wasting time, energy and money if it's allowed to get out of hand. Here, two production veterans outline the top gripes that some production departments have with editorial counterparts, and offer actionable solutions for bridging the gap.

Schedule Deadlines
Issue: Deadlines fly by with no word from editorial, and production is left to take the hit.
"Most production departments are responsible for seeing that the contractual obligations with the printer are met; the first of these is the schedule deadline," says Dedra Smith, president of Printmark West, Inc. Missing a deadline can lead to production staying late toward the end of the cycle to make up for delays. "Ultimately, we know the deadline's coming, and we're forced to push up on editorial to get things done," says Success Media production manager, Alan Dwelle.
Solution: Interim sign-offs. Smith suggests finding "different ways of prioritizing the way editorial works," which can "bring relief to both departments by closing in forms, for example." Prior to joining Printmark West, Smith directed manufacturing for Pactel, Murdoch Magazines and Reed Elsevier, and boasts more than 30 years of experience working to find scheduling solutions. Interim sign-offs, Smith says, not only help keep printers on schedule, but ensure that the production staff meets its deadlines without any contractual consequences (of which, she says, editorial may be completely unaware).

Stories Falling Through
Issue: Editorial decides to kill a story at the last minute with no replacement copy in the can.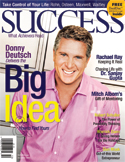 Texas-based Success Media is a start up, with monthly issues beginning as recently as the August/September 2008 issue. While the company may not have a long history, it's already had its share of production vs. editorial close calls. For an issue this past year, Success planned to feature Dallas Cowboys QB Tony Romo in an article on the playoff game against the New York Giants. "Clearly, that didn't work out," says Dwelle. The magazine decided to kill this feature. There have been other stories that Success has also decided to kill at the last minute for various reasons.
Solution: Have a back-up plan for top stories. "Sometimes there are circumstances that are out of editorial control and are client driven—I understand," says Dwelle. But what made the Tony Romo story swap possible—and allowed Dwelle to be so understanding—was having a replacement feature on tap.
"Of course, in terms of the entire cycle, we'd always like more time to work on the design and the production," says Dwelle. "Pagination can never be early enough." But swapping out stories at the last minute would be a much bigger deal for Dwelle had Success Media's editorial team not put this no-fail method in place. While implementing this may involve more forethought and front-end editorial work, the results, as proven by Success Media, are well worth it.

Late Revision Cycles
Issue: "Many editorial decisions that could be made earlier are deferred until page proof," says Smith.
When editorial is late, it can require late correction rounds that ultimately compromise the production function of creating final PDFs and releasing the page to the printer on time. Once pages have been released by editorial to production for final output, a good editorial workflow will make almost no corrections at page proof. "It's a sign of poor management of the internal editorial workflow, because generally, any mistake caught after the page's release probably could have been caught further upstream," says Smith.
When editorial lateness begins to affect print schedules, a common response is for printers to impose heavy penalties for these late corrections. If a publication is subscriber-based and trying to hit co-mail pools at the printer, failure to make their pool can result in penalties and loss of savings. "As postage approaches 50 percent of manufacturing costs, the loss of a 7 to 20 percent discount can be a blow to the budget that publishers are unwilling to risk on an ad, much less late editorial," says Smith.
Solution: Working farther ahead and imposing interim deadlines for finalizing elements of each page, story, layout and section can open up time to be creative. By managing the more pedestrian stages, such as getting artwork assigned, future features solicited, fact-checking completed, pull-quotes pulled, the focus for both edit and production can be on working to make the publication better overall.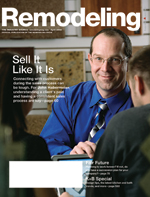 CASE STUDY
Donnelley Publishing's Monetary Incentive
As the former vice president of production at Hanley-Wood, Joanne Harap had the experience of working with Donnelley Publishing to implement an incentive-based program that bridged the gap between departments. This program allowed a fixed number of "late pages" due much closer to the final press date. This allowed the production manager and the managing editor to communicate better about realistic deadlines. It also involved the publisher in the final decision about missing deadlines. "The incentive was part of the production budget," Harap said. "If the incentive was lost, it showed up on the bottom line and the publisher was informed ahead of time about the missed deadlines." The program, which ran from 2002 through 2005, became a strong metric for the production department as it showed that progress was being made in adhering to schedules for Donnelley's 12 to 15 titles. The result? The schedule incentive was met at least 95 percent of the time.
Meet the Author
---