The Production Behind Maxim's 'De-Metalized' Polywrap

September issue features polywrap with unique metallic process.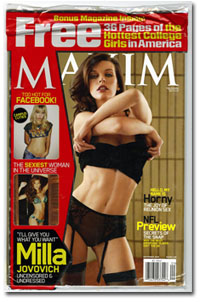 For its September issue, Alpha Media's Maxim will be wrapped in a polybag that has undergone what is called a "demetalized" process.
While polywrapping supplemental materials is old hat for the 1.2 million-circulation men's title, this is the first time in its decade-long history that it has undergone Elgin, Illinois-based Multifilm Packaging Corporation's demetalized, or "de-met," process. It's also the first time that Multifilm has used this process on packaging for a magazine publisher, the company said.
According to Len Brooker, Multifilm's product manager, the de-met process can "create both clear poly printed and metalized overwraps in the same package. You get the rich look of metal while still having clear window(s) to show parts of the magazine."
How it Works
The process involves taking the base material that will be printed on—which Multifilm previously metalizes and prints—and removing the metal to create clear windows or designs that cover part of a magazine. Unlike this process, many metallic polywrap producers for U.S. magazines make use of metalized inks, which "do a good job, but can be very expensive," said Brooker.
By using the de-met process, "inks pop better on the metalized bag," said Robin Daikeler May, Maxim's director of manufacturing and distribution. "I have printed on 120-gauge polypropylene, and with this [de-met] process the material 'feels' of higher quality. We utilize the enhanced packaging to enable the creative director to promote the supplement sneak peak."
The de-met process is unique, with virtually no one else in North America and only a select few companies in Asia doing it, Brooker said.
Multifilm's in-house process (which includes creation, de-met and printing film) helps control the pricepoint for metallic polywrap. Daikeler May said that using de-met polywraps cost Maxim about 30 percent more than a typical, clear polypropylene; Brooker said this figure is around four cents or five cents per copy (clear poly is around three cents per magazine, depending on volume).
Maxim plans to continue with the demetalized polywraps with its Maxim's December holiday issue.
Meet the Author
---