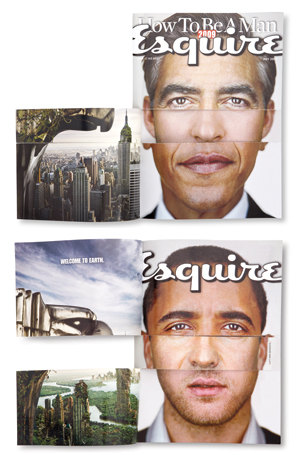 Esquire has come up with another cover gimmick: the magazine's May "How to Be a Man" issue, on newsstands April 10, features perforated covers that act like a flip book, allowing readers to make 27 combinations of the facial features of Barack Obama, George Clooney and Justin Timberlake. It's the first time a U.S. magazine has featured a perforated cover, the publisher says.
"For the last three years, we've worked really hard to push the print medium and our manufacturing partners to do things magazines have never done," Esquire editor-in-chief David Granger told FOLIO:.
The inside of the two perforated covers, as well as the spread following the third cover, were purchased by the History Channel, and feature two images advertising its "Life After People" television program.
The inspiration for the cover came after Granger and design director David Curcurito saw several demonstrations from specialty printers on how paper can be used for magazine production. They saw the concept utilized on several photos by photographer Martin Schoeller and decided it was a great idea for the magazine.
Produced With 'Careful Scrutiny'
To produce the special issue, Esquire partnered with Clifton, New Jersey-based printer Sandy Alexander (Esquire's normal printer is R.R. Donnelley). SA used a special die unit that perforated the covers while being printed, instead of a separate process, which Esquire said saved them roughly a week and a half of production time.
"Press and bindery testing was required in order to ensure that the cover could be produced as required and also ensure that it could be bound on to the magazine," said Karen Wagner, production director of print solutions for Hearst. "The closing of the cover had to take place two weeks early in order to accommodate the special needs."
Aligning the images between the three covers was a critical challenge, Wagner said. "This was achieved by careful scrutiny when the covers were on press to make sure that any variation was within the allowable tolerance.
"It was imperative that the reader would be able to easily tear the strips apart without tearing the covers," she added. "We had to find the right amount of pressure in the perforations. Also, the glue on the inside of the covers needed to hold up during the binding process. Again, testing was performed to determine the correct amount of glue needed."
Granger declined to comment on how much the special cover cost.