Pro-Life Groups Outraged Over Vogue Photo Spread

Partial-birth abortions story, shoot draw criticism.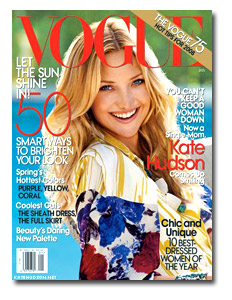 Vogue is feeling the heat of religious and pro-life organizations over an article these groups say promotes partial-birth abortions with a photo shoot that makes the subject appear fashionable.
"Private Lives," a column which appears in the January issue of Vogue, was written by Lori Campbell, a New York woman who in 1998 was advised by her doctors to have an abortion 22 weeks into her pregnancy after being told the baby would not survive.
The story's opening spread features a photograph of Campbell and her daughter, with Campbell wearing a Christopher Fisher cardigan and a Y & Kei camisole.
"Vogue has received a large amount of supportive letters relating to this article, as well as negative responses from anti-abortion advocates," a Vogue spokesperson tells FOLIO:. "The response from both sides demonstrates that this is an important and sensitive subject that matters to people."
Some pro-life and religious groups argue that the article promotes the controversial abortion procedure.
"Cleverly marketing legal abortion as a boon to women's emancipation has been the most important task of the abortion industry and lobby for 30 years," one pro-life blogger wrote. "In this month's edition, the gruesome procedure of partial birth abortion has been given a style makeover by the world's most influential fashion magazine, Vogue."
"As far as the photo is concerned, being a fashion magazine, Vogue's standard practice is to provide clothes, hair and make-up when photographing portrait subjects," the Vogue spokesperson says.
Meet the Author
---