Printers Take to the Cloud

Printers transition from owners of big iron to multi-faceted tech providers.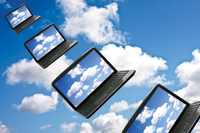 For several years now, publication printers have been aggressively branching out to offer a full array of services to magazine companies.
They've always offered various prepress and post-press services, but in the last decade, these services have significantly expanded and now it's common for printers to offer not just digital editions but also Web development, content management systems, XML repositories and workflow-management tools.
Now some printers taking the next steps in a transformation from old-industry giants into nimble technology companies by offering these and other services as applications, accessible to publishers through the Internet. In this report, we'll look at some of the emerging technology solutions offered by printers, all clustered around a single concept: ASP hosting. This phrase—application service provider hosting—means that a printer hosts one or more software applications for its customers over the Web.
The ASP approach is common in many industries and for many functions. Basically, it means all data and applications are hosted, maintained and upgraded at a service-provider's facility, rather than the customer's site. Data is accessed via a secure online connection customized for the customer.
There is no discernible difference for the user between an ASP system or an in-house technology approach. The advantage to the customer of the ASP is that they no longer need to buy their own servers, hosting room, security systems, back-up equipment and associated gear. Also, an ASP generally offers the customer the option of subscription, as opposed to making major investments in software and hardware.
Before I start, the strongest recommendation I can offer is that no matter what the circumstances, there needs to be a proven ROI for the publisher if it's going to go down the road to an ASP solution. Otherwise, don't bother.
Also important: The printer has to be able to provide the service in a format that can be maintained and certainly used—even in the event that the publisher switches printers. In other words, maintain your flexibility and make sure your data and systems can be transferred.
Here are a few examples of cloud-computing, from printer to publisher, magazine-industry style.
Ad-Sales Support
Virtually every magazine and magazine-related Web business is searching for additional intelligence for its sales efforts, and America's Horse, published by American Quarter Horse Association, is one of them. But unlike many others, America's Horse has an additional weapon. The magazine uses the services of MagazineRadar, an advertising-research and intelligence firm, to track where ads are being placed in its market and in related markets with similar demographics.
MagazineRadar has a partnership with Brown Printing to provide the service, which is available to members of the America's Horse sales team via the Web. "We can perform very specific searches and create reports to see what competitors a potential new advertiser utilizes, says Gary Conway, business development account executive at the magazine. "Magazine Radar also uses our user profile to find advertisers who have historically placed ads targeting similar demographics and ultimately suggests great new leads."
Job Planning and Tracking
Software providers that serve the magazine industry have long been challenged to find a technology solution that can manage—and integrate—the print-manufacturing process, encompassing a whole host of departments and processes. They've also been thwarted at every turn.
The vision is to have one system that tracks advertising, starting with sales efforts through to confirmed insertions, through the production department and materials processing, through invoicing, billing and accounts receivable.
Such a system would touch on three publishing-company departments, at least. But who would run it? Who would be responsible? Because of the technology issues and the cross-jurisdictional nature of the concept, it hasn't taken off.
But some vendors are moving in this direction, and providing an ASP-based approach to systems that handle job planning and tracking. The characteristics of an ASP-based system should include:
• A process that enables the publisher to create and quickly update an issue map, or imposition.
• Unlimited capabilities for planning the most complex of magazines, including geographic and demographic splits, while allowing the user to see the map from all perspectives: Overall; by geo/demo content and signatures; page splits; special sections; ad sections; and so forth.
• An ability to display the map in various forms, including press impositions for addressing inline conflicts and the ladder perspective for saddle-stitched magazines, as well as other customizable views.
• A robust conflict-alert system.
• Cost-tracking functionality based on imported price schedules from the printer that would assure optimal makeup from the standpoint of both correct placement and lowest production costs. This functionality should include on-the-fly "what if?" options for a variety of scenarios.
• A production schedule module. This would include multiple issues and multiple magazines, no matter the frequency.
Small-to-medium size publishing operations might ask why they need such a tool—it seems like overkill. And in an industry where the vast majority of companies are smaller, entrepreneurial outfits used to seat-of-the-pants but practical approaches, that makes sense. But when you fully understand the benefits and reach of the software, software that allows for booking and then tracking ads, for editorial and circulation, you will change your mind.
Also, these programs allow map creation in less than an hour, and at the same time enable map viewing in multiple formats, while also being able to see the cost of the issue as you map. Among offerings in this area, Dataplan's JournalSuite is the only software that is printer-independent for ASP job hosting.
Hosting of Online Databases
Some printers are offering services that allow the outsourced hosting of their data (one printer offering online database hosting is Fry Communications). Sales information, along with extensive ad tracking and production data, are among the databases printers now host.
In an ASP-based sales-data program, everything from file handling to proof cycles are automated. Some systems even send a soft-proof to the advertiser as soon as a page is completed. Pagination is also completely automated and can be easily edited. An accounts-receivable module is available for the billing of all placed ads.
ASP Hosting of Digital Editions
As one of several printers that offer digital production/management related software, Publishers Press offers e-Pub Xpress, which enables publishers to log in to an ASP-based program to create digital editions as well as e-mail programs. It even can host the customer's Web site.
In the last few years, printers have leveraged their natural position as the publisher's most important supplier into a variety of new services, with ASP solutions among the fastest growing.
Bert N. Langford is an independent consultant specializing in magazine production and publishing technology: visit his website at www.pubresource.com. Contact Bert via email at Bert@pubresource.com or by calling at 1-314-458-8863.
Meet the Author
---