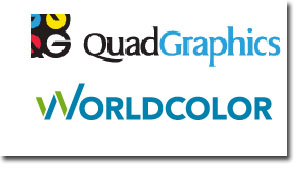 SEE ALSO: Quad Offers Realistic, Promising Outlook on Magazine Trend
In a preliminary registration statement filed recently with the Securities and Exchange Commission, Sussex, Wisconsin-based Quad/Graphics outlined the details surrounding its proposed stock exchange acquisition of fellow printer World Color, as well as its intention to become a publicly-traded company following the deal's completion.
In addition to offering insight into the workings of the acquisition (Quad/Graphics shareholders would own a 60 percent stake in the combined company while World Color shareholders would take a 40 percent stake), the document provides a five-year perspective on the financial performances of both companies, illustrating the staggering profit losses reported by World Color during the final three years of that period.
While World Color's profit losses narrowed last year, the company still reported a net loss of $154 million, according to the filing. Operating revenues in 2009 declined 23.5 percent to $3.07 billion. It was the biggest revenue drop-off across the five-year period.
In 2008, the company reported $462 million in net losses on $4.01 billion in sales. The profit slide was most severe in 2007, when World Color reported a net loss of $1.88 billion. Operating revenues that year were $4.65 billion, down only about 8 percent compared to 2006.
As of the five-month period ended December 31, 2009, World Color carried $486 million in long-term debt, the filing said.
Formally called Quebecor World, World Color filed for Chapter 11 bankruptcy protection in Canada and the U.S. in early 2008 and emerged with the new name last July. World Color's board of directors approved Quad's acquisition offer in January.
Under Debt, Quad Moves Toward Acquisition
Like World Color, Quad also has seen a profit decline since 2007—just not nearly as dramatic. Last year, Quad reported an operating income of $112.4 million and $1.78 billion in net sales. Between 2005 and 2008, the company reported its highest revenues in 2008 at $2.26 billion and its highest profits in 2007 at $246.7 million.
Profits aside, Quad in the filing indicated that it carries significantly more long-term debt (including capital lease obligations) than World Color, reported at $765.5 million. Combined, both companies carry approximately $1.25 billion in long-term debt.
The companies are expected to hold a special meeting of World Color shareholders to vote on the acquisition arrangement. A Quad spokesperson told FOLIO:  the scheduling of that meeting is dependent on the SEC declaring the preliminary registration statement effective.