For Print to Survive, You Must Automate!

A publishing expert shares what to look for in production software.
The media landscape has radically and permanently changed. And, a publisher's normal means of bringing expenses in line with revenues is no longer enough.
What publishers are missing is the right process automation software for magazine production (including all affected departments). That means using two-way, real-time integration between departmental systems and even your printer or standalone modules in the event that one or more departments do not have their own management information systems.
This is an approach that can enable increased revenues through target marketing of readership (and its advertisers) while bringing significant reductions in both magazine operations overhead and manufacturing and distribution (M&D) expenses through your printer.
Depending on how completely the system is implemented, the more you can leverage the software, the better the results will be for the company.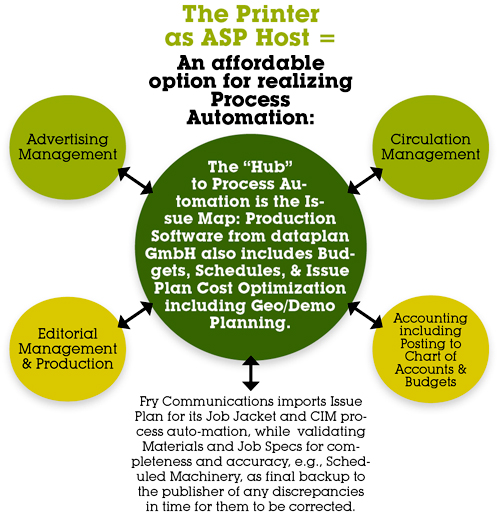 Where to Start: The Map
Your core process automation application needs to be an electronic version of the magazine map. The map can then become the hub for a central operations database  for overall process automation, two-way real-time integration of internal magazine operations and with your printer, and vastly improved communications. Besides the map, the production software also can cover:
(1) Production schedules that also include complete yet automated tracking of content, components and materials; including timely alerts of impending deadlines, schedule conflicts or missing materials.
(2) The map's interface to the software's print contract management module provides for manufacturing and distribution cost optimization (including geo/demo) while mapping; as well as separate functionality (e.g., M&D budgets for accounting).
(3) Exporting the final issue plan's M&D requirements to the printer can comprise much of the printer's input for issue specifications; in turn, bringing the likelihood of shared savings by the printer to the publisher for offering the data feed.
(4) If you don't already have sufficient software systems for enabling process automation for advertising, editorial and circulation management, the software must still possess the abilities to provide a complete ad booking system as well as meet other departmental needs as covered herein.
Target Marketing is the Answer to a Niche Marketplace
The printed magazine that performs well today is likely covering a niche. Even with a more general interest publication, you can accommodate selective content for readers and niche advertisers through target marketing to your magazine's readers by covering content of particular interest to that reader.
Today's map-based software achieves target marketing through geo/demo M&D optimization to minimize time and mistakes. In addition, it realizes the least M&D expense through cost optimization, such as selective binding, including optimization for the USPS to realize the lowest postal rates.
Such software must minimally meet the following requirements:
• The software must be both easy to use and complete. For example, where other departmental systems do not exist, the software offers standalone-modules. The software even offers Excel file exchange where useful, while providing timely, user-definable and general system alerts and flags to impacted parties in the event of violation of content placement (including locked content), schedule deadlines, or other irregularities.
• The software should provide remote access through your Web browser to the map and related software modules.
• The software needs to provide a user-customizable report generator to complement the map and other production modules: e.g., (1) for screen or print-out display (including PDFs) of the map and its variations (e.g., S/S ladder); (2) provide for user-definable reports including production schedules and M&D budgets and estimates; (3) automatically output the issue plan and its pre-bill for sending to the printer in the file format the printer requires; and (4) for accounting, the final invoice can be automatically broken out to meet the publisher's chart of accounts. There should also be quick access to custom and standard reports by category; even allowing fast on-screen queries.
In cases where there is limited or no content management systems, the software can even provide databases covering editorial/art requirements such as contributor databases for writers and art contributors including their specialties, contact information and contribution history and Web sites for stock digital assets for download. For digital asset management, the software should provide a current and historical database of specific in-house or printer-based digital assets and their file location for picking up ads for repeat insertions as well as editorial reprints.
You should also be able to track production schedules by issue and the fiscal or calendar year, by magazine or magazine group and by magazine issue.
Software should be able to create schedules customizable for meeting operational requirements. It should also continually monitor and alert the user to overall issue production status including their ongoing materials status, to ensure that all aspects of issue production are running on-time and otherwise ready for print. It can also catch overlapping schedule conflicts to minimize the possibility of running late.
Incorporating a complete printing M&D cost optimization module including geo/gmo makeup is capable of providing:
(1) estimates and forecasts (and updates) for accounting's annual budget;
(2) the ongoing cost of a magazine issue's M&D expenses—even while developing the map—to determine the cost of expanding page count for an ad added at the last minute; 
(3) ongoing verification that the issue plan can be produced by the printer, while ensuring that you are billed correctly according to your M&D pre-bill with the issue plan.
Circulation and distribution modules are also included covering newsstand and subscriber copies, as well as miscellaneous shipments such as show copies. They work with the cost optimization module to optimize for the lowest postal costs, even geo/demo cost optimization.
A complete rights management system can create logins and passwords by user and by workgroup  and stay attuned to their specific access needs as read-only and create, change and delete in terms of magazine workflow requirements. Users can even simultaneously work on the same job while the system prevents overwriting other data.
Software Features
The software should also offer continuous upgrades with 24/7 maintenance/support, which overall is critical to not only continuously improving the product, but even more so for improving time savings and error-free issue plans.
Map software needs to be fast and easy for the user placing content by using drag-and-drop or with a combination of mouse, keyboard and object menus.  For example, the map should enable the user to quickly drill down or roll up for geo/demo sections and pages. Only a few measurements must be entered to reserve space for anticipated ads.
In turn, the map must be easy to differentiate content elements by providing user-customizable page or other display options (e.g., an advertorial or geo/demo version). This is achieved through user-definable use of color, icons and other markers.
You need to be able to access map revision history that can enable you to not only review the  development of the map, but also pick up recent revisions to eliminate changes that are no longer true.
The software should even include a classified ad module to provide for entry/import along with automatic composition of classified ads by section or other criteria.
The software must accommodate a user-customizable visual map including alternate views such as  complete or selective view of metadata vs. page images. The map can be displayed either as the complete issue map or by section or other component, as well as by geo/demo version. It can also provide press form impositions for correcting placement to avoid inline color conflicts on-press and other user-definable views, such as on-screen queries.
The map must be able to accommodate all forms of content and their placement requirements, including: advertorials or other special sections; user-definable ad/edit sizes/shapes and standard or unique fractional ad placement; user-definable rules-based ad placement, including by competitive ad market as well as providing for competitive ad rotation from issue-to-issue.
Managing Advertising
For competitive ad placement, ads can be assigned ad market categories to accommodate the Publishers Information Bureau (PIB) categories, and enable you to customize for your magazine's own competitive ad market categories. The publisher can transmit electronic reports after issue to PIB and other organizations.
To set up each issue map, you can make use of magazine templates or issue job cloning to avoid issue-to-issue repetitive entry. And you also can set issue page count from either a targeted ad/edit ratio, minimum editorial page count, or both.
Two-way interfaces to Quark Xpress and Adobe InDesign from the map save time by automatically producing then exporting back to Xpress/InDesign fully composed pages from your mapping software for any template-driven page content (including ads), relieving the art director of tedious follow-through.
A Huge Return on Investment
A product that meets the general requirements herein can provide the appropriate (and verifiable) ROI to senior management.
For example, you might even be able to use your printer as an applications service provider (ASP) wherein you are granted login rights in order to safely access the printer's hosting server and pay a reasonable monthly fee in return.
Through accommodating work-share programs  such as PAGE Certification with the USPS, process automation can help to significantly reduce the expense of postage as well as reduce clerical handling by your staff and by the printer.
Ease of use, along with process automation, are key deliverables. After the original setup, each magazine issue develops much more quickly and with fewer errors.
The software can accommodate the most common architecture along with availability of state-of-the-art database systems like MS-SQL, Oracle and others.
Process automation is the most effective solution to retaining your printed magazine The tools are here today. Use them!

Bert N. Langford is U.S. technical representative and advisor for dataplan GmbH. He has comprehensive experience in printing and publishing, as well as consulting for magazine publishers. Bert can be reached at blangford@dataplan.de.
Meet the Author
---