B-to-b print magazines reported a 16.5 percent decrease in compounded annual profit growth during the three-year period between 2006 and 2008—including a 26.8 percent drop in 2008—according to American Business Media's 2009 Media Financial Survey. The results were released Sunday during a panel discussion at ABM's annual conference in Amelia Island, Florida.
Online, however, showed year-over-year profit growth of 27.5 percent—making it the fastest-growing revenue category in terms of profitability. Last year, the category saw profits increase 11.6 percent compared to 2007.
"B-to-b magazines are in a transformational phase—businesses are transferring marketing spend from print to online and other marketing channels," Jordan, Edmiston Group managing director Richard Mead told FOLIO:. JEGI co-produced the survey, which replaces ABM's Media Revenue and Cost Report.
"For the foreseeable future, the leading b-to-b magazines will continue to have a role as part of the overall marketing product mix … but those b-to-b companies that rely almost exclusively on print revenues face a challenging future," Mead said.
The compound annual growth rate of b-to-b media profits increased 2.8 percent 2006 to 2008 while revenues increased 3.7 percent, according to the survey. Last year, profits declined 7.8 percent compared to 2007 on revenues that were down 2.2 percent.
Revenue from live events and data products (as well as online) helped offset losses from print magazines. Tradeshows, however, saw revenues fall 18.5 percent during the fourth quarter compared to the same period in 2007. "There has been a softening of tradeshow revenues but the declines were expected, given the worldwide recession," said Mead, who indicated that b-to-b tradeshow revenues are down roughly 10 percent so far in 2009.
"All b-to-b revenue streams are being affected by the recession, but we expect strong growth to continue in online, and also events and data-driven products to be impacted less than magazine ad revenue as these revenue streams continue to benefit from the shift in marketing dollars from print-driven vehicles," he said.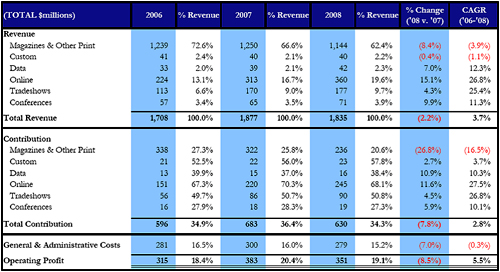 Source: JEGI