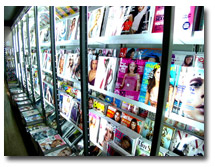 So far, 2010 has not been an exciting year for magazine launches. According to MediaFinder, a database of U.S. and Canadian magazines, 176 new print titles launched in the first three quarters and 127 shut down. That's down from 259 new launches and 383 closures in the same period 2009.
I suppose any new launch these days is still worthy of notice, and fewer closures is a good thing. However, MediaFinder's numbers bring up an interesting anomaly—that launches were higher during 2009 when the industry was still in turmoil.
In effect, 2010 is noted for a drop in shut-downs (good news), but also a drop in new launches (bad news), which could indicate a less-than enthusiastic outlook from existing and prospective publishers. We've essentially netted 49 magazines so far this year.
There were 26 magazines that went online-only, also down from the same period in 2009 when 64 titles pinned their hopes on a digital future.
The two top categories are perennial favorites among the launching crowd—food and regional, which have seen 24 and 14 new magazines respectively in the first three quarters.
MediaFinder also tracked 44 shut-downs in the b-to-b category and 29 new launches.