Print Forecast is Bleak—But at Least It's Pretty

Times turns gloom into interactive feature.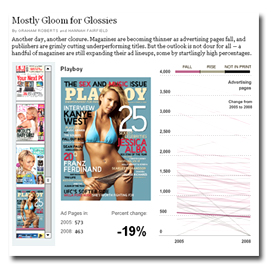 It's not news that ad page numbers are falling, magazines are becoming thinner and at least one folds every day (today? Tennis Week).
But the NYTimes.com has figured out a way to show a spectrum of 96 magazines (a nice, round number) or the winners, losers, and even those already-folded, in a fun, interactive format.
Now, they need one for newspapers.
Meet the Author
---