This morning, one of my company's clients, a large, international law firm, released two annual forecast publications that we produced for them. These publications, which look closely at what the trends are likely to be in litigation and government regulation in 2015 and are targeted to both current and potential clients, are part of a larger content marketing plan that the firm has embarked upon. The plan isn't comprised only of the forecasts themselves, but also of bylines, blogposts, email notifications, infographics, client alerts and even webinars.
It's not the array of content vehicles through which this material will be distributed that's striking to me—that's becoming increasingly common in the work we do—but the fact that the foundation for the campaign is a pair of printed publications. And not just publications that happen to have been printed, but publications that have been lushly produced, with gatefolds and colorful graphics, with arresting photography and three-dimensional maps, and with a soft-touch cover coating that echoes the rubberized look of the cover art.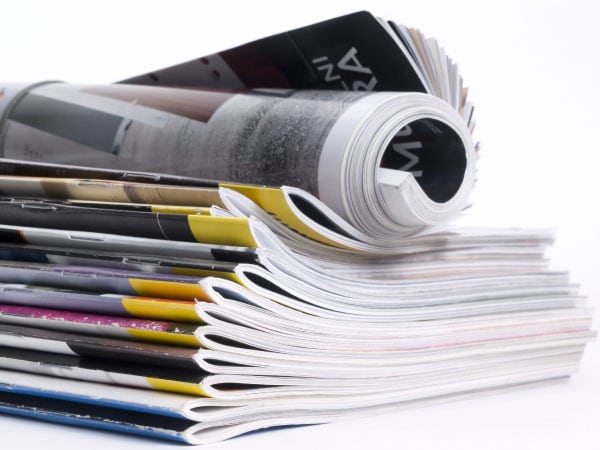 The publications are available via the firm's website as both PDFs and custom page-turners (complete with a "skyscraper" touting one publication's gatefold). But the printed volumes are clearly the centerpiece of the campaign. This morning, every partner in the firm's more than half a dozen U.S. offices walked in to find the two forecasts on his or her desk. Next week several thousand corporate counsel, C-suite officers and association executives will receive both publications in see-through polybags via the U.S. Postal Service. And the firm, sensing a demand for the hard-copy versions, is likely to go back on press in a week or two to make sure they've got enough stock to give out—at conferences, meetings and other events—throughout the course of the year.
When pitching new business—or even when talking to current clients—I'm constantly advised about the alleged death of print. "No one reads print anymore," I'm told. "Everyone reads everything online, on their phones, on their tablets."
I respond with what I consider to be a number of apocryphal, albeit anecdotal tales that I believe prove the opposite: one about the law firm client that opted for a hardcover book and used it to fuel coast-to-coast panel discussions, a firm-sponsored seminar series, and a host of business development efforts. Another about the client that asked us to produce a tablet magazine—and then decided they couldn't entirely forego the printed version, so we produced both. About the young members of the board of an organization to whom we were pitching a print magazine who told our representative how "refreshing" this approach was since they were "so tired" of weeding through online content and trying to read long-form articles on little screens.
And it's not just our experiences that I relate. I talk about CNET's new foray into print publishing. And how HGTV is building TV viewership with a print magazine. And how Newsweek reversed its well-publicized departure from the printed page with a hard-copy magazine featuring lots of great photography printed on heavier stock—something that even the highest-resolution screens can't replicate.
Maybe it's my heritage as a print publisher that makes it difficult for me to relinquish my roots—and easy for me to grab on to any story that hints at the resurgence of print as a harbinger of this medium's new golden age. But I think there's more realism afoot. Print won't ever be what it was, but it's also not ceasing to exist.
As content marketers—like the law firm for which we produced the forecast publications that launched today—come to understand that strategic content marketing needs to be multichannel, multifaceted and multipronged, they'll also come to appreciate print's inherent—and irreplaceable—strengths: tangibility, portability, shareability, all enhanced by the sort of high-quality production values that greeted our client's attorneys this morning.
Yes, this is a new golden age for print, not through ubiquity, but through selective, effective usage. I, for one, am happy to help usher it in.