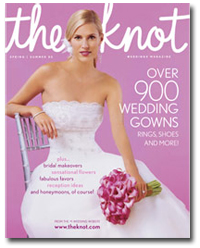 The print edition of online wedding resource TheKnot.com is increasing frequency from semi-annual to quarterly beginning in 2010.
The announcement came just nine days after Condé Nast said it was folding two of The Knot's competitors—Modern Bride and Elegant Bride. Co-founder and CEO David Liu called the timing of the announcement "serendipitous."
"We've been looking at increasing the frequency of the magazine for a while," Liu told FOLIO: sister title Audience Development. "Our magazine originally followed the fashion cycle, which means twice a year. But from a business point of view, that cycle was causing us to miss certain advertising opportunities. Our closing date didn't mix well with the fiscal year of some of our partners. So we saw increasing the frequency as a way to provide some more marketing opportunities to the partners that don't fit into our schedule."
Although Liu said increasing The Knot's frequency was not a direct reaction to the changes at Condé Nast, the timing does work in his company's favor. "We're benefiting, of course, because the ad support that they're losing can come to us," he said.
While The Knot will continue to offer readers all of the alphabetized, bride-friendly directories of dresses, tuxedos, jewelry, and honeymoons, the two new issues each year will concentrate on the bride herself, the company said. The magazine launched in 2000 and sold 350,000 copies on newsstands last year,
"We're tapping into our main assets, which is our community and membership," Liu said. "We have at our fingertips access to the largest audience of women in the U.S. [who are] currently planning a wedding. As much as we have great content and tools, at the end of the day, we know that brides want to hear from other brides."
The two "crowd-sourced" issues will feature the topics, products, and advice brides care about care about most—an antithesis of the content found in more traditional wedding magazines. "A lot of those wedding magazines are all about being 'princess for a day,' which comes with a $10 million budget," Liu said. "We want to provide realistic and practical ideas, especially in an age when budgets are tighter."
And although most publishers are in the process of shutting their print magazines down, Liu said the company isn't worried about doing the opposite. "There's so much that's been written about the demise of print magazines, but consumers will continue to read them if they have quality content," he said. "The bar has now been set. If you're not producing valuable and compelling content, you should be shutting down. Gone are the days were companies ridiculously support large amounts of magazines."
Wedding Magazine Publishers Jump on Opportunity
The Knot isn't the only publisher capitalizing on the space created by the loss of Modern Bride and Elegant Bride. In connection with the magaizne's 15th anniversary this year, Martha Stewart Weddings said it is launching the Luxury Wedding Expo, a two-day digital event that kicks off November 14.
The magazine also is publishing Martha Stewart's Destination Weddings & Dream Honeymoons, its first special issue covering those topics. The issue is set to hit newsstands November 9.
In addition, American Media Inc., in connection with its Shape brand, said recently that it is launching Shapebride, its first magazine in the bridal category. It's slated to hit newsstands Valentine's Day weekend next year.