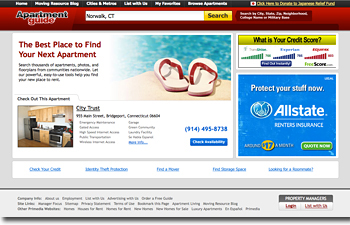 Primedia Inc. announced today that it has entered an agreement to be acquired by affiliates of private equity firm TPG Capital for approximately $525 million, or $7.10 per share. Primedia provides offers apartment and housing listings through a series of print and mobile publications as well as Web sites such as ApartmentGuide.com, NewHomeGuide.com and Rentals.com.
The deal is expected to close in third quarter 2011. Stockholders holding approximately 58 percent of outstanding Primedia stock have given written consent approving the transaction, according to a press release.
"Primedia is a leading resource for consumers in search of housing," said David Trujillo, TPG Principal, in a statement. "We believe the company will benefit from the continuing secular transition from print to digital media and we look forward to building upon the company's innovative products and services for consumer searching for the ideal place to live."
TPG has investments in companies such as Hotwire, Sabre/Travelocity/Lastminute and Univision. 
Primedia Inc. was the last entity of the former publishing giant to keep the
Primedia brand. In 2005, Wasserstein & Co. bought Primedia Business
(which had changed its name to Prism Business Media) for $385 million
(eventually folding it into Penton Media) while magazine distributor Source Interlink bought Primedia Enthusiast in 2007 for $1.2 billion.