Primedia Names President and CEO

Stubbs, 35, wants to 'build powerful and cohesive Internet brand.'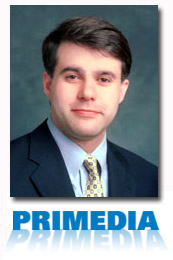 Primedia has named Charles Stubbs, a 35-year-old former Yellowpages.com chief executive, as its president and CEO. Stubbs replaces Robert Metz, who resigned, the company said today.
Metz, who had been with Primedia since 1994 as CEO of its Consumer Source, Inc. division, was named CEO last fall.
Stubbs could not immediately be reached for comment. In a statement, Stubbs said that he plans to "build a powerful and cohesive Internet brand" at Primedia.
During three-and-a-half years at Yellowpages, Stubbs helped combine the company's three e-media businesses into one online brand, according to the statement. Before that, Stubbs served as president of BellSouth IntelliVentures, the e-media division of the BellSouth's advertising and publishing group.
Primedia—once a consumer and trade magazine publishing powerhouse—now publishes free apartment and auto guides through its Consumer Source business. Annual circulation is roughly 39 million.
In 2006, Primedia sold its fishing, hunting and shooting magazines to InterMedia Outdoor Inc. for $170 million. Last may, the publisher sold its Primedia Enthusiast Media group (which was made up of more than 70 titles) to media distribution company Source Interlink for $1.2 billion.
According to an SEC filing, Primedia's total net revenue increased 2.2 percent to $314.8 million in 2007, led by growth in its New Home Guide, Rentals.com and DistribuTech, the company's distribution business. Total advertising revenue was $257.2 million, a 2.1 percent increase.
Meet the Author
---