A Price Plunge for E-Readers

Barnes & Noble and Amazon slash prices by $60 and $70, respectively.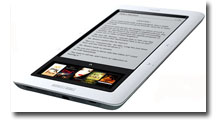 The sub-$200 e-reader market has just become more crowded. Almost simultaneously, Barnes & Noble and Amazon announced recently significant price reductions for the Nook and Kindle. B&N dropped the Nook from $259 to $199 and introduced a Wi-Fi edition for $149. Amazon quickly responded by slashing $70 off its base model Kindle, bringing it down to $189.
The market has plenty of company. Borders introduced its Kobo e-reader in May for $149, and also sells other e-readers as well. Apple's popular iPad, which starts at $499 for the base model Wi-Fi, is credited with putting pressure on the much less functional e-reader market to cut prices—the company says it has sold three million iPads in not quite three months. On July 1st, Amazon announced it dropped its Kindle DX pricing by $110 to $379. The model has also been updated with a graphite style enclosure and new display that claims a 50 percent better contrast. The updated model is scheduled to ship July 7.
Sony also slipped in some price reductions on its three e-readers. The Touch Edition has dropped from $250 to $170, the Daily Edition is now $50 cheaper at $300, and the Pocket Edition is now $150, down from $170.
Meanwhile, Barnes & Noble is plowing more value into the Nook by offering free AT&T Wi-Fi network access, along with the ability to share e-books with friends for two weeks and to read complete books in-store for free.
Other e-readers are having a tougher go. The Skiff was purchased from Hearst by News Corp., but the deal did not include the device itself. Plastic Logic has yet to ship its Que, which was originally slated for an April launch. The company delayed shipment twice, the second time canceling all pre-orders.  
While books have been the obvious focus for the e-reader market, periodicals are expected to become more plentiful. Back in March, Barnes & Noble hired Jonathan Shar away from Time Inc. to run its digital content operations on BN.com.
Meet the Author
---