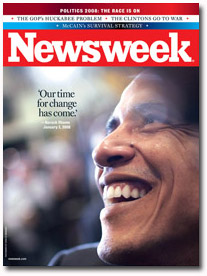 EXCLUSIVE
Greg Osberg, Newsweek's president and worldwide publisher, is leaving the Washington Post Company, FOLIO: has learned.
Osberg told FOLIO: Tuesday that he plans to stay on at Newsweek until early fall. No successor has been named, though Jon Meacham, the magazine's editor, would figure to be a prime candidate—at least for the president part.
A Washington Post Company spokesperson said the decision would be made by Newsweek. A spokesperson for Newsweek did not immediately return a request seeking comment.
Osberg joined Newsweek in 1990 as associate advertising director, then vice president/associate publisher. He left Newsweek in 1997 to become president of sales and marketing at CNET, but came back in 2000 to focus on building out the company's international editions and Newsweek.com.
"I've made it no secret that I have a passion for the digital space," Osberg said. "I've always wanted to return there." Osberg said he had made the decision a couple months ago, but that the company had "wanted to keep it quiet."
He declined to say what his next move would be, but said it would most likely not be in the magazine industry.
Osberg's departure comes at a tenuous time for the newsweekly category. Through June, advertising pages were down 22.2 percent over the same period in 2007, according to Publishers Information Bureau figures. At Newsweek-rival Time, pages were down 21 percent; U.S. News and World Report—which recently announced it will become a biweekly in 2009—saw a 30 percent drop.
[EDITOR'S NOTE: Check FOLIOmag.com throughout the day for updates to this story.]