Ex-Penton VP to Launch Online Startup

Prescott Shibles to roll out Vital Business Media before year's end.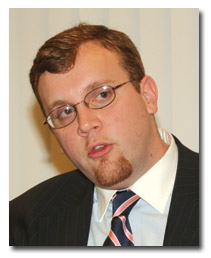 About a month after his quiet departure from Penton Media as vice president of new media, Prescott Shibles is taking a page out of the Tina Brown/Harry McCracken playbook and is launching his own startup: Vital Business Media.
"At heart, I've always been an entrepreneur," Shibles told FOLIO:. "I told [Penton CEO] John French when I took the job there that after I built up digital so it was a significant part of the company in terms of staff and revenue size that I'd want to do something small again."
Shibles [pictured] plans to launch Vital Business Media's first vertical online before the end of the year, he said. Comparing the forthcoming site to DailyCandy.com and personalized music site Pandora.com, Shibles says his site will serve as an aggregator of business-related news and feature original video content.
"There's an abundance of business news and advertising out there but most of it is lost on the end consumer," he said. "We'll filter out the 'noise' and funnel information to our users that is vital to their business' health."
Like Daily Candy, Shibles will require users to fill out a registration form with profile data which, in turn, will help him provide them with personalized business content and advertising. "I see this as an opportunity to go beyond lead generation to what I call lead cultivating and nurturing," he said.
Entrepreneurial 'Itch'
Shibles joined Penton in 2003. Since then, the digital department at the b-to-b publishing giant has grown from three to 130 employees. He left in early September following Penton's naming of Jim L'Heureux as senior vice president of e-media.
"Launching Vital Business Media is something I've been thinking about in earnest since February," said Shibles. "The opportunity here is immense."
While he continues to look for additional financial partners, Shibles says he has raised "less than $5 million" in angel financing to get Vital Business Media going. After the site goes live, he hopes to launch two more verticals by mid-2009. He also is developing an events-related portion of the business.
"I'm excited to venturing out on my own," Shibles said. "You can only not scratch that entrepreneurial itch for so long."
Meet the Author
---