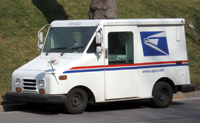 Almost four months after the United States Postal Service proposed an exigent rate case that would force rates for periodicals mailers up 8 percent and raise First-Class mail stamps to 46 cents, the Postal Regulatory Commission today unanimously voted to deny the proposal, stating that the USPS failed to justify rate increases in excess of the price cap.
"The commission finds that the Postal Service has shown the recent recession to be an exigent circumstance but it has failed both to quantify the impact of the recession on its finances and to show how its rate request relates to the resulting loss of mail volume," the PRC says in a statement announcing the decision.
In a separate statement, PRC chairman Ruth Y. Goldway explains that in order for an exigent rate case to be valid, the adjustment must be shown to be due to: either extraordinary or exceptional circumstances; reasonable, equitable and necessary under best management practices; and be necessary to maintain and to the future development of the postal services.
The PRC, however, says that despite the USPS' volume losses and staggering financial losses, its "cashflow problem is not a result of the recession and would have occurred whether or not the recession took place." The PRC says the USPS' financial troubles are the result of internal structural problems.
According to Tony Conway, executive director of the Alliance for Nonprofit Mailers, the PRC's decision has "helped countless businesses stay competitive and saved tens of thousands of jobs. The commissioners recognized that imposing an additional tax on Postal Service customers is not the way to address its financial troubles."
Conway also serves as spokesperson for the Affordable Mail Alliance, a coalition of several magazine publishers, associations and other groups that called for the PRC to reject the USPS' proposal.
The USPS said it believed the price changes would help raise about $2.3 billion over the first nine months of 2011. If approved, the USPS proposal also would have raised catalog rates by 5.1 percent and standard mail parcels rates by 23 percent.
The USPS achieved more than $6 billion in cost reductions last year but volume declines have outstripped those reductions. In August, the USPS reported a net loss of nearly $1.6 billion, and a $7.7 billion loss through the first 11 months of its fiscal year 2010.
Over the next decade, the USPS projects a $238 billion loss.