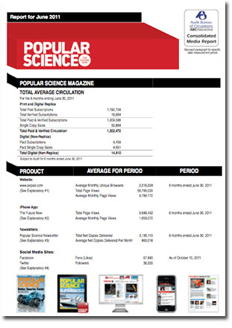 As publishers have expanded their brands onto multiple platforms–especially all the variations of digital content—their total audiences have grown right along with them. And regardless of the difficulties in determining exactly, say, who is visiting a web site or interacting with a brand via social media, publishers are keen on promoting that total audience reach, and the auditing firms have been keeping up by expanding their reporting services.
ABC's Multimedia Publisher's Statement launched in 2008, but has since morphed into the Consolidated Media Report and is now rolling out its first magazine publisher report with Bonnier's Popular Science. In addition to reporting on its standard print circulation in its ABC publishers statement, Pop Sci's CMR will show iPad tablet edition circulation, Web site pageviews and unique visitors, Twitter followers and Facebook fans, e-newsletter deliveries, and iPhone app page views.
"The Multimedia Publisher's Statement was the first iteration," says ABC's president and managing director Michael Lavery. "I think the CMR nomenclature reflects a harmonization that we're undergoing here at ABC to bring in line this reporting option between our various publishing divisions."
The newspaper division, for example, is quite a bit farther ahead of magazine brands. According to ABC, 30 newspapers have created custom CMRs.
Lavery points out that the CMR is not a unilateral move by ABC to corral publisher into another reporting scheme. "It's a reflection of our membership and the way they're going to market and how they want to represent their brands."
Lavery says there are other magazine brands on deck working on Consolidated Media Reports, but declined to mention any until they're closer to actually releasing a report.
The CMRs don's supersede the traditional publishers statement and they're not required. Instead, CMRs act as a supplement that's reported at a frequency determined by the publisher.
The reporting elements are also determined by the publisher, Lavery calls it an "open architecture" approach. "Because each brand goes to market differently, this open architecture approach allows for some amount of user definition, not in terms of the metrics, but in terms of the format."
In addition to all the usual digital platforms, including social media, that can be audited, radio and television audiences are also part of the mix, for example. Costs for the report are determined through time spent on the auditing and the number of audited elements.
Likewise, BPA Worldwide has had its own multimedia report available. It's Brand Reach statement has been available for a couple years now. Indeed, b-to-b publishers were early adopters of the approach, even for ABC. Stamats Business Media was the first to complete BPA's multimedia report.
You can view Pop Sci's report here [pdf].