Pop Sci Develops 'Interactive' 3D Cover

Special software enables readers to access animated turbine 'hologram' online.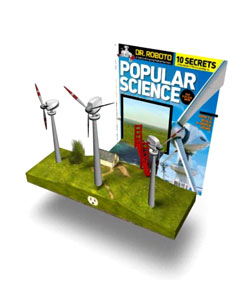 The July issue of Bonnier's Popular Science features a 3D cover that allows readers to log onto the magazine's Web site and interact with an animated "hologram."
When a reader logs onto popsci.com/imagination and holds the cover to a Web camera, an interactive image featuring wind turbines appears on the computer screen. Once the image is activated, the user can cause the blades to begin turning by blowing air onto the webcam microphone.
The 3D hologram was provided to Popular Science by General Electric's "Plug Into the Smart Grid" initiative. GE purchased three ad pages in the issue.
Popular Science utilized "augmented reality" firm Metaio's Web application software, called "Unifeye Viewer," to make the 3D system work.
"We've developed algorithms that analyze an image and identify unique features (corners, edges, highlights etc.) within that image," Noora Guldemond, Metaio's business development manager, wrote in an e-mail to FOLIO:. "The system analyzes the texture of the environment (in this case the Popular Science cover), searches for different features and matches them onto a reference image. This allows us then to calculate the 3D position and orientation of the camera in respect to the environment to display the 3D animation."
Metaio's viewer utilizes Adobe technology to offer cross-platform compatibility—for PC, Mac and all relevant browsers—high 3D quality and JPG images as references to ensure the best user experience. Augmented reality technology, Guldemond said, is a process that enables 3D animations to be integrated into live video streams and pictures.
The July issue, which features content on the future of energy, hit newsstands today. The actual cover image is not three-dimensional, Bonnier said.
A Bonnier spokesperson declined to say how much the 3D cover cost to produce, other than to say it was a "significant investment."
Meet the Author
---