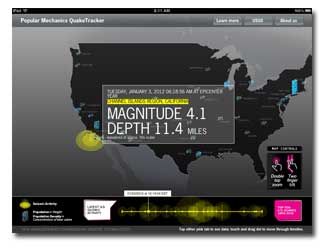 This story first appears on FOLIO: sister site, minonline.
Every month magazines are trying to innovate in their digital tablet editions. We have seen a number of cool interactive features embedded in the iPad magazines we have tapped and swiped our way through over the past year or more. The problem is, some of the coolest stuff gets buried or forgotten as the subsequent issues pile up. Popular Mechanics has come up with a good way to reuse some of that creativity by spinning out its QuakeTracker feature from an early iPad issue into a free standalone app that promotes the fee-based iPad monthly.
QuakeTracker is an animated and interactive history of earthquake activity in the U.S. It works in two modes, one that recounts the ten biggest seismic events in the 48 continental states since 1860 and another that zooms in to just the most recent weeks.
The map uses captivating information design to represent the activity. Large columns of bouncing dots represent population density of areas in the U.S. A timeline autoruns through the major instances of activity. And a set of yellow concentric circles indicate both the size and the depth of each quake. The user can manipulate the map by zooming but also tilting the map to see depth of the quake.
Throughout the app the user is prompted to subscribe to the iPad version of the magazine. The promotion is not especially intrusive or irritating, but it helps make the case that Popular Mechanics is not just re-purposing print in its tablet version. By spinning out one of its more visually striking and entertaining app features, the magazine has created a deft promotional tool. Missing perhaps is more detail about what the full digital magazine has to offer each month. Would it have been so hard to include some sample content?
But there is a caveat to app-ifying a single feature from the context of a larger content experience. As a magazine feature, the QuakeTracker operated well in a modified lean-back mode. The two ways of viewing the recent and long-term timeline work with an autorun timeline. Within the context of perusing a magazine that automated experience feels about right. The user can always drag the timeline forward to highlight events at a quicker pace, but the app lacks a pause button that lets you dwell easily on a given event. You always feel as if you are pushed along by the neverending flow. To be sure, this little nit doesn't ruin an otherwise strong experience in data visualization. But magazine developers should be thinking about how some of their smart in-app features may need more tweaking when asked to stand alone.
All in all, pulling out individual iPad issue features as a standalone is a very good idea. Magazines need to find ways of highlighting their best creative efforts on this medium more effectively and promote their experiences with readers outside the Newsstand venue and business model. We can imagine magazines issuing year-end "best of" iPad issues that pull together some of their best interactive features, for instance. Or a publisher of like-minded titles might pull together strong examples of iPad development from across their portfolio to promote the line.