Popular Mechanics Partners with HP to Produce Customized Advertising Issue

November issue campaign drew a 4 percent response rate, 15,000 site visits.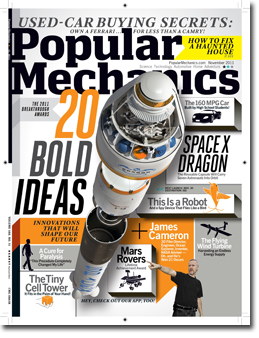 Hearst has made its first venture into fully customized magazine advertising through its November issue of Popular Mechanics, which delivered personalized editions of the 1.2 million-circulation title to 300,000 of its subscribers in twelve different cities.
Produced on HP Inkjet Web Press technology, and as a campaign for HP, the special editions featured an outsert with full-color name and address variable-data imaging, along with photos of regional landmarks such as the Golden Gate Bridge or a New York City brownstone. A sixteen-page insert featured information about HP technology along with a suggestion of where to buy HP products, using geocoding to drive readers to their nearest Staples or Best Buy. QR codes directed readers to an online sweepstakes and landing page with additional content.
According to associate publisher Jane Wladar, the results have been positive: the campaign drew more than 15,000 sweepstakes site visits and more than 10,000 unique entries within the first 28 days, amounting to a 4 percent response rate and a 3 percent conversion rate, exceeding the typical 1-2 percent rate for direct mail.
Because the technology affords the opportunity to offer targeted messaging and an element of measurability to advertisers, Wladar says, "We are definitely going to use it again. We are in conversation with other advertisers to use the technology in other ways. This was done with HP to create a case study so we had metrics to send to the advertising community."
According to Wladar, "It's actually a pretty simple process," though it adds a couple extra weeks to the production cycle. "If they are supplying the creative, it's about a four-week lead time prior to close date to get something like this done."
A New Technology for the Magazine Industry

This campaign marks HP's first significant magazine application for the Inkjet Web Press, which, according to the company, is used more frequently in the book publishing as well as insurance and finance industries. "We introduced that technology about a year ago," says Michelle Weir, HP's marketing development manager for the publishing segment. "Before that, it was really difficult to do a full personalization of anything. The 40-inch press enables a 16-page fully personalized insert. When you look at how a magazine is made in 16-page segments, you can take that fully customized segment and put it into the binding of a magazine that was otherwise produced traditionally."
According to Weir, readers are welcoming this customized approach: 82 percent of readers liked the insert, according to a VISTA report, while 74 percent viewed HP and Hearst as innovative for delivering personalized messages to them through the outsert.
While still in an early-adopter phase, customized advertising proves to be a potential boon for magazine publishers. Last year, The Atlantic's November issue featured a number of customized advertising packages, including Dow's purchase of multiple cover units, which resulted in the magazine's highest number of ad pages for any issue in its (at the time) 153-year history.
In 2009, Time Inc. experimented with an entirely personalized magazine, called Mine, which allowed readers to choose content from five magazines including Food & Wine, Golf, InStyle and Sports Illustrated. The one-shot title, sponsored entirely by Lexus, met with criticism as well as technical issues but was a first of its kind. That same year, National Geographic offered a customized cover option to readers for $19.99, following a similar experiment by WIRED in 2007.
Meet the Author
---