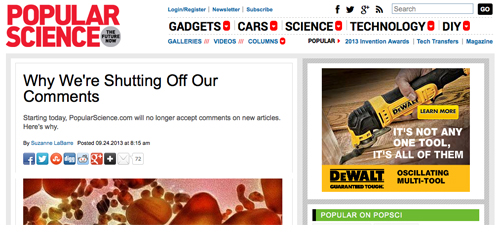 Widely touted as a major engagement booster, article commenting features have nevertheless remained a prickly issue for many publishers, and it boils down to this: Are the trolls and spam worth the effort? Bonnier's Popular Science doesn't think so.
Suzanne LaBarre, PopSci's online content director, announced this morning that the site has decided to turn off its article commenting feature. How this went over with the site's visitors is unknown because, well, there are no comments.
But according to LaBarre, the issue goes way beyond the typical annoyances of managing inappropriate or spammed comments—science itself is at risk.
Civility, or the lack of it, is one thing. Redirecting an article's conclusion is a whole new ballgame.
Citing a study conducted by the University of Wisconsin-Madison that found uncivil comments not only had a polarizing effect on readers, they also changed interpretation, LaBarre pulled the plug to protect the science community at large.
"If you carry out those results to their logical end—commenters shape public opinion; public opinion shapes public policy; public policy shapes how and whether and what research gets funded—you start to see why we feel compelled to hit the 'off' switch," she says.
The phrase "it's a scientific fact" doesn't seem to carry the weight it used to. "Scientific certainty is just another thing for two people to 'debate' on television," she continues.
LaBarre says the often politically motivated nature of the rogue commenting chips away at an article's conclusion, hijacking the conversation into an anti-science framework and creating debates out of thin air. 
"And because comments sections tend to be a grotesque reflection of the media culture surrounding them, the cynical work of undermining bedrock scientific doctrine is now being done beneath our own stories, within a website devoted to championing science," she says.
Nevertheless, LaBarre says readers will still be able to interact with each other and the brand, just not in such close proximity to the stories. The brand's social platforms will be the new conversation hubs and there will still be the occasional story that has the commenting feature turned back on.